The drug was part of a clinical trial at Norton Cancer Institute and has been designated a breakthrough therapy by the Food and Drug Administration.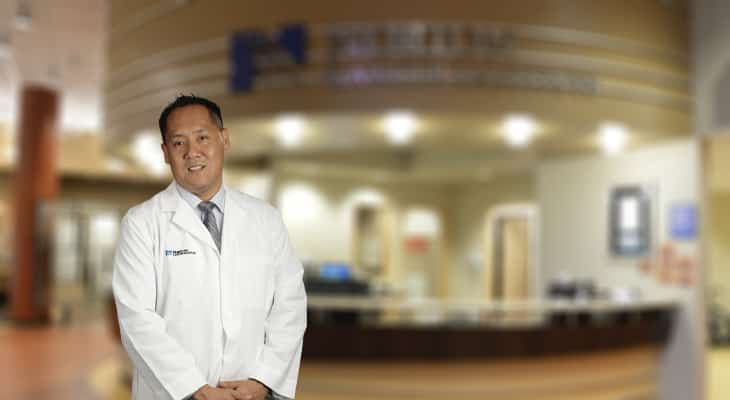 A cutting-edge new treatment specifically targets prostate cancer cells to deliver a tumor-killing radioisotope and helped extend patients' lives longer in an international clinical trial (VISION Study), according to a study published in the New England Journal of Medicine (NEJM) on Sept. 16, 2021.
The drug, lutetium-177–PSMA-617, was used to treat patients with metastatic castration-resistant prostate cancer that had continued to progress despite other treatments.
"Radioligand therapy with lutetium-177-PSMA-617 prolonged imaging-based progression-free survival and overall survival when added to standard care in patients with advanced PSMA-positive metastatic castration-resistant prostate cancer," the NEJM published authors, including Chandler H. Park, M.D., medical oncologist at Norton Cancer Institute, wrote in the VISION study, "Lutetium-177–PSMA-617 for Metastatic Castration-Resistant Prostate Cancer."
"It is a well-tolerated drug that is a new life-extending treatment for our prostate cancer patients without the tough side effects of traditional cancer treatments," said Dr. Park, one of the study leaders of this clinical study.
Refer a patient
Use Norton EpicLink referral "Oncology" to quickly and easily refer a patient to Norton Cancer Institute.
---
Fatigue, dry mouth and nausea were the most common adverse events.
Patients who received lutetium-177-PSMA-617 had a 38% reduction in risk of death (median overall survival of four months) and a 60% reduction in the risk of worsening cancer on radiographic disease progression or death (median rPFS of five months).
The Food and Drug Administration has granted breakthrough therapy designation to the drug. The designation is granted to expedite the development and review of drugs where clinical evidence indicates they could be a substantial improvement over current treatment.
Lutetium-177-PSMA-617 is a precision cancer treatment combining a targeting compound with a therapeutic radioisotope. The drug binds to prostate cancer cells that express prostate-specific membrane antigen, and emissions from the radioisotope disrupt the tumor cells' ability to replicate and possibly kill the tumor cells.
The radiation from the radioisotope works over very short distances to limit damage to surrounding cells, the drug's maker, Novartis, said in a press release.
In the phase 3 clinical trial, the drug was infused every six weeks for a maximum of six times.
---