Rehabilitation at KORT in the Norton Sports Health Performance & Wellness Center, then conditioning at the same facility.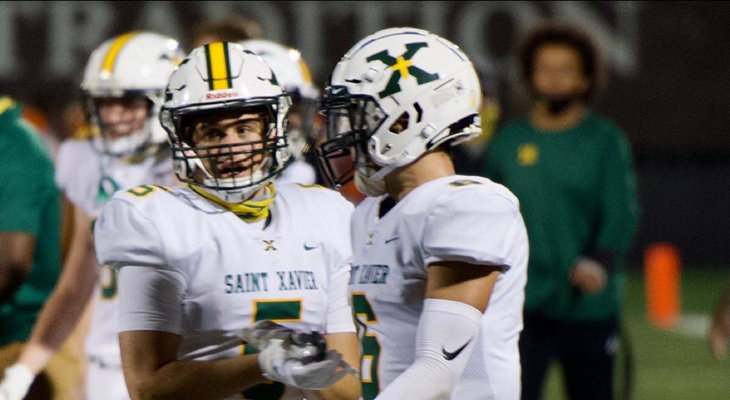 St. Xavier High School quarterback Jack Sivori can't pinpoint the day he injured his shoulder. But as the 2019 football season progressed, throwing became more and more painful.
"I couldn't throw as hard, and I started throwing weird because of the pain," the 17-year-old junior said. "I would put my arm over my head and it hurt — a sharp pain in my shoulder."
The pain in Jack's shoulder was affecting how well he could play the position he loves — he's been playing quarterback since he was 7.
"It was pretty hard to deal with," Jack said. "I knew I should probably get checked out."
Jack went to see Ryan J. Krupp, M.D., orthopedic surgeon with Norton Orthopedic Institute, who has extensive experience in sports medicine and shoulder reconstruction. Dr. Krupp is also the executive medical director of orthopedics for Norton Sports Health.
Refer a patient
Use Norton EpicLink to quickly and easily refer a patient to Norton Sports Health.
To get an accurate picture of the quarterback's injury, Dr. Krupp had Jack undergo an MR arthrogram to get a more detailed image. The image showed Jack had an extensive tear in his labrum.
A year ago, Dr. Krupp operated on Jack to reattach the cartilage using anchors and sutures.
The road back with rehab and training
In addition to protecting his arm in a sling, Jack started rehabilitation at KORT, located within the Norton Sports Health Performance & Wellness Center, with physical therapist and clinic director Josh Bixler PT, DPT, OCS.
To get ready to play football again, Jack participated in the KORT/Norton Sports Performance Return to Play Program, which uses progressive strengthening and movement to get athletes back in the game. According to Jack, the physical therapy was tiring, but the teen quickly saw results.
"It was night and day from week to week," Jack said.
He started with basic exercises and worked his way up to throwing, first only 5 yards and then farther and farther away. In time, he was throwing downfield again.
'I feel brand-new again'
Allison Sivori, Jack's mother, said she appreciates the patient approach Dr. Krupp and Josh took with her son's rehabilitation.
"They looked at the big picture. They didn't try to rush him back. They did it slowly and thoroughly and were thoughtful about bringing him back," she said. "The communication between Josh and Dr. Krupp was very reassuring. They always had him on the right track."
To get back in playing shape, the high school quarterback also underwent strength and conditioning training at Norton Sports Performance, with strength coach Brock Martin.
"It feels back to normal now," Jack said. "Before surgery I was in a lot of pain. I feel brand-new again."
---