Jeffrey D. Howard, M.D., MBA, MPH, recently joined Norton Healthcare as a general surgeon. He also serves as medical director of Louisville's public health department.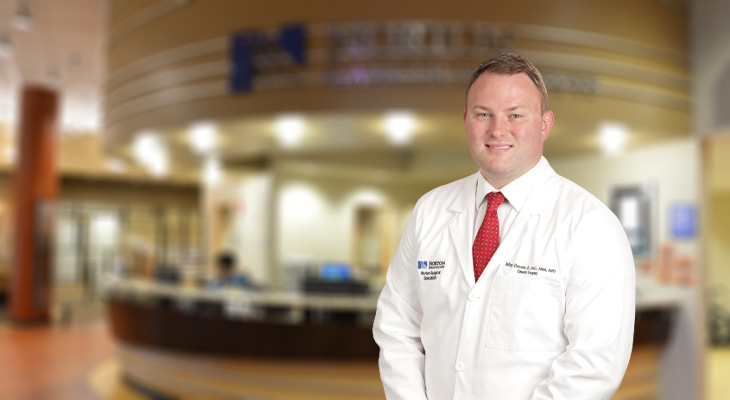 When he spent time shadowing physicians in Eastern Kentucky, where he grew up, Jeffrey D. Howard, M.D., MBA, MPH, was struck by a rural doctor's ability to take care of any case that came through the door.
One of these "Docs," as their patients called them, performed a carotid endarterectomy on his wife's uncle, managed his grandmother's diabetes and took out his father's gallbladder.
These were do-it-all general surgeons who took care of the patient no matter what.
"That was my idea of what a doctor was," Dr. Howard said.
When he became a doctor himself, Dr. Howard was drawn to general surgery because of the example he had seen.
"One of the things I like about general surgery is having a broad scope of issues and a broad scope of patients," said Dr. Howard, who is also interested in robotic-assisted surgery. "It adds some variety and some excitement to the work."
Dr. Howard recently joined Norton Surgical Specialists – Louisville General Surgery, as a general surgeon at Norton Brownsboro Hospital and Norton Women's & Children's Hospital.
"Norton Healthcare has a great general surgery program," Dr. Howard said, explaining why he was drawn to the position.
Dr. Howard's practice is broad and will include abdominal wall hernias; foregut, including reflux and hiatal hernias; skin, breast and colon cancer; and emergency general surgical issues. He likes to stay busy.
In 2017, when he was 29, Dr. Howard became Kentucky's youngest commissioner of public health and chief medical officer, and the youngest top state health official in the country. At the same time, he earned master's degrees in business administration and public health.
Refer a patient
To refer a patient, visit Norton EpicLink and open an order for General Surgery.
---
After two years, Dr. Howard left to spend a year as a nonpartisan White House fellow, advising the vice president and senior officials on health care policy, before returning to finish his training at the University of Louisville.
In addition to his position at Norton Healthcare, Dr. Howard is medical director of the Louisville Metro Department for Public Health and Wellness and is its interim director and chief health strategist.
"I enjoy having a back-to-back schedule and a variety of topics. Going from seeing a colon cancer patient to then working on COVID-19 vaccine strategies keeps things exciting and fresh," Dr. Howard said.
Originally from Harlan County, Kentucky, Dr. Howard grew up in a family of modest means, with relatives who experienced the struggle of opioid addiction. He was the first member of his family to go to college, attending Union College on a football scholarship before he injured his knee after his freshman year at the school in Barbourville, Kentucky.
Through the Bonner Scholar Program, he volunteered more than 1,000 hours serving the local community. It was while volunteering at a local free health clinic that the future Dr. Howard observed how physicians were able to influence the lives and outcomes of patients.
Dr. Howard earned his medical degree from the University of Louisville School of Medicine and completed his residency there. He received his MBA from Northern Kentucky University, Highland Heights, and his master's degree in public health from the Harvard T.H. Chan School of Public Health in Boston, Massachusetts.
Dr. Howard lives in Louisville with his wife, Brandy Howard, Ed.D., the chief academic officer for Bullitt County schools, and their two children. When he's not working, Dr. Howard is a voracious reader, roots for both the University of Kentucky and University of Louisville sports teams, and enjoys traveling with his family.
---