Jeff W. Allen, M.D., discusses weight-loss surgery requirements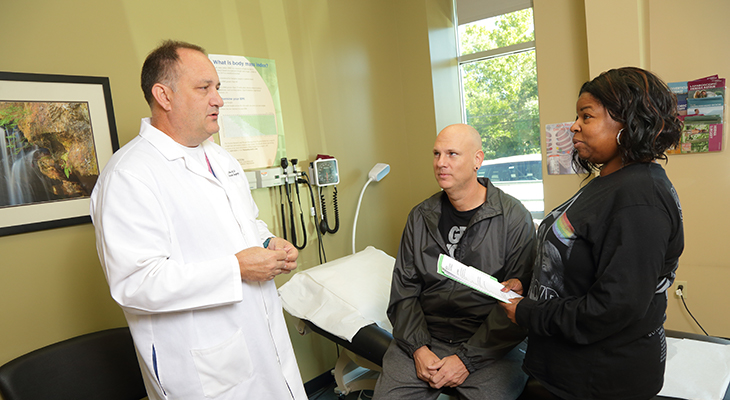 Weight-loss surgery requirements and guidelines differ for patients depending on whether they have a disease related to obesity, according to Jeff W. Allen, M.D., bariatric surgeon with Norton Surgical Specialists.
"The thing about the outcomes with any weight loss therapy is it doesn't really matter if you get it done through diet and exercise or pharmacological [treatment] or a surgery," Dr. Allen said. "If you lose weight, regardless of the way it happens, then you're successful."
Anyone with a body mass index (BMI) over 40 (weight in kilograms divided by height in meters squared) typically won't be able to obtain a healthy weight without surgery, Dr. Allen said during a recent continuing medical education opportunity on the Norton Healthcare "MedChat" podcast.
Diet, exercise and other nonsurgical approaches have worked for some with a BMI greater than 40, so insurers and physicians typically recommend trying nonsurgical therapy. In more than 95% of patients, however, it isn't successful, according to Dr. Allen.
Additionally, a few insurers will require six months of medically supervised weight loss before approving coverage of bariatric surgery, Dr. Allen said on the podcast.
National Institutes of Health guidelines say patients with a BMI between 30 and 40 with a disease related to obesity such as adult-onset diabetes, hypertension, life-limiting osteoarthritis or severe sleep apnea, should consider bariatric surgery. Those four conditions typically will improve after a significant weight loss, according to Dr. Allen.
Refer a patient
Use Norton EpicLink to quickly and easily refer a patient to Norton Weight Management Services.
The ideal patient for referral
Patients who are motivated, smart about their situation and ready to dedicate the time to improve their weight are ideal candidates, Dr. Allen said on "MedChat."
Motivation is the most important. According to Dr. Allen, many patients come for bariatric surgery because a spinal surgeon or joint replacement surgeon tells them they need to lose weight before getting their back fixed or getting a new hip.
"If the patient is just saying, 'Well, this is a box I've got to check before I had my hip surgery,' and aren't motivated to do the work and to lose the weight, they're not going to do as well," he said.
Second, according to Dr. Allen, patients need to understand that the operation is a tool to not only fix their weight, but enhance their quality of life. Surgery alone is not the answer to their weight.
"I tell people that after I do an operation, 'you're going to wake up and you're going to weigh the same,'" he said.
After the surgery is when the work really starts.
Finally, the patients need to be able to dedicate the time. Depending on the surgery, some patients will need to come in for follow-ups every six weeks for two to three years to reduce the risk of any complications.
According to Dr. Allen, the surgery has the potential to make a big difference for patients who may be very sick.
"Just a little weight loss can begin to get them to turn the corner, and a lot of weight loss will make them much, much healthier people," Dr. Allen said.
---