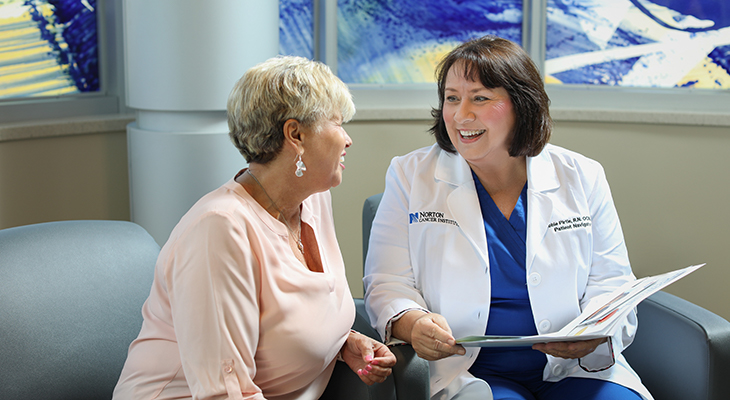 For Deborah Pirtle, R.N., cancer is personal.
Deborah lost her brother to head and neck cancer when he was only 50 years old. According to Deborah, that experience gave her a unique perspective, because it put her in the caregiver role both inside and outside of the work setting.
As a patient navigator with Norton Cancer Institute, she advocates for patients and helps them find their way through oncology care.
"Every person has a goal for cancer treatment that is personal to them," Deborah said. "I want to make sure their voice is heard."
Deborah works in Southern Indiana with the Norton Cancer Institute Pat Harrison Resource Center, in partnership with Clark Memorial Health in Jeffersonville, Indiana.
She's learned that compassion is the most important aspect of patient care, and that even a small, kind act can have a lasting impact on a patient and their family.
"A few days ago, I received a card in the mail from a patient's family member," Deborah said. "The patient moved to Ohio to live with his sister and receive hospice care. However, the family found out they were without a hospice provider because the patient no longer had insurance. I was able to connect the patient's family with a not-for-profit hospice organization who provided great care.
"After the patient passed away, his sister sent a note thanking me for my help when she didn't know what to do. It seemed like such a small thing, but it was huge for this family."
Refer a Patient
To refer a patient to Norton Cancer Institute, use our online form.
Make A Referral
---