The Food and Drug Administration's Emergency Use Authorization for convalescent plasma treatment for COVID-19 means no individual investigational new drug application is needed.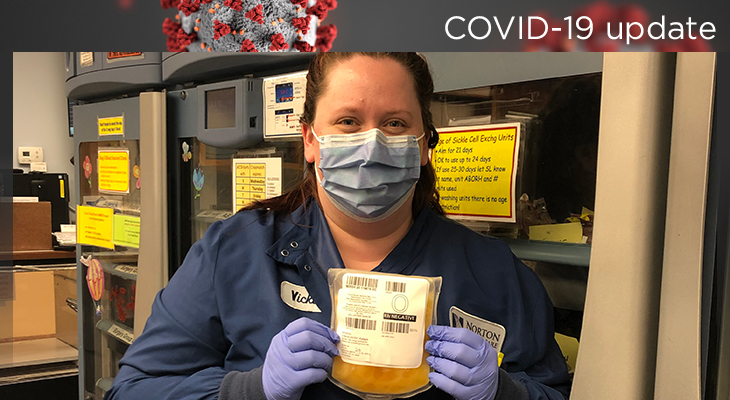 Under an emergency use authorization by the Food and Drug Administration (FDA), all Norton Healthcare providers can order convalescent plasma therapy for confirmed COVID-19 hospitalized patients with severe or critical symptoms.
Norton Healthcare hospitals have been providing convalescent plasma to treat COVID-19 since early April under an FDA-approved extended access program. Until recently, only a few clinicians could order the product. In late August, based on the preliminary results of the program, the FDA issued an emergency use authorization for convalescent plasma, opening the use of this therapy for patients hospitalized with severe COVID-19.
Convalescent plasma is taken from blood donated by fully recovered COVID-19 patients.
Convalescent plasma still is considered an investigational therapy, but under the FDA emergency use authorization, no individual investigational new drug application is needed. The FDA also issued a fact sheet for health care providers.
For Norton Healthcare medical staff, the order can be found in the Adult Blood and Blood Products order sets and is called Convalescent Plasma for COVID-19. Things you should know before ordering the product:
For Additional Information, contact:Elpidio Pena, M.D., M.A.
Medical Director
Transfusion Services
Norton Healthcare
Consent:

The normal consent for blood products is still required.
In addition, information from the FDA patient fact sheet should be shared with the patient. This document will print when an order for CCP is placed and can be used to document patient's informed consent.

It may take 24 hours or more to receive the product from the blood supplier.
The product must be ABO compatible, and the typical dose is one unit of 200 ml.
Patients whose condition is not severe or critical may be eligible for a clinical trial if they have at least one of the following risk factors:

Over age 60
Hypertension
Cardiovascular disease
Active tobacco use
Underlying active malignancy
History of pulmonary volume reduction surgery
To inquire about inclusion in the trial, contact  Joseph M. Flynn, D.O., MPH, FACP, principal investigator for the study, chief administrative officer, Norton Medical Group, and physician-in-chief, Norton Cancer Institute.
All orders are reviewed by Norton Healthcare transfusion services leadership prior to completion.
---