Bereaved family members of adult oncology patients appear to have moderate acceptance of amplified cardiopulmonary recordings.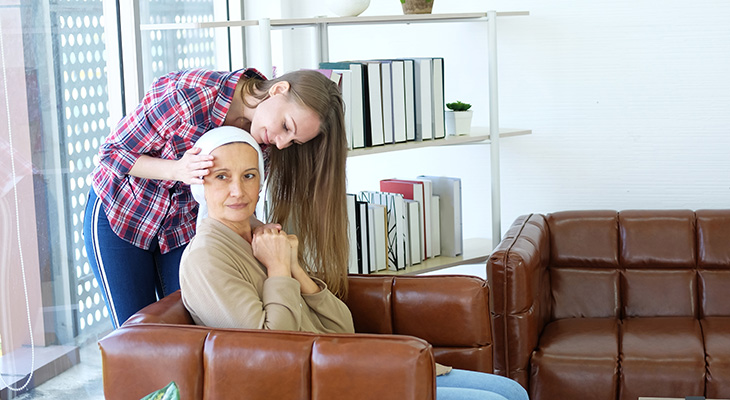 Bereaved family members of adult oncology patients appear to have moderate acceptance and use of amplified cardiopulmonary recordings (ACPR) when created in the context of ongoing music therapy treatment, according to a recently published study.
ACPR is a process-based music therapy intervention. Using a patient's heartbeat to create a piece of music can be important to the patient and the intended listener over time.
Refer a patient
To refer a patient to Norton Cancer Institute, visit Norton EpicLink and open an order for Oncology.
---
The study's authors, including music therapist Brian Schreck, M.A., MT-BC, of Norton Cancer Institute, recommended further study and proactive implementation of the music therapy intervention.
Of the study's 191 participants, 73% of family members responded, 49% reported listening to their recording frequently, 31% listened to the recording at least once after receiving it and 20% reported never listening.
Eighty percent of the participants used their ACPR.
"Keeping in mind the ethical responsibility linked with potentially potent material, future research and formalized training in ACPR may protect families from future trauma and/or other emotional harm linked to using ACPR," the authors wrote in the Journal of Palliative Medicine."
"Music serves as a facilitator in relationships. Having studied the dilemma of mortality, the ultimate end game is inner peace. And if you're going to arrive at inner peace when you pass, you have to have three things: sense of self-worth, relationships, and legacy. Music is very good at facilitating harmony in relationships with the people you love," co-author Renato V. LaRocca, M.D., FACP, neuro-oncologist, Norton Cancer Institute, wrote in the study.
Additional co-authors of "Amplified Cardiopulmonary Recordings: Music Therapy Legacy Intervention with Adult Oncology Patients and Their Families — A Preliminary Program Evaluation" were:
Joanne Loewy, D.A., LCAT, MT-BC, Mount Sinai Health System, New York City
Elizabeth Harman, Ph.D., MT-BC, Cincinnati Children's Hospital Medical Center, Ohio
Elizabeth Archer-Nanda, DNP, PMHCNS-BC, Norton Cancer Institute.
---