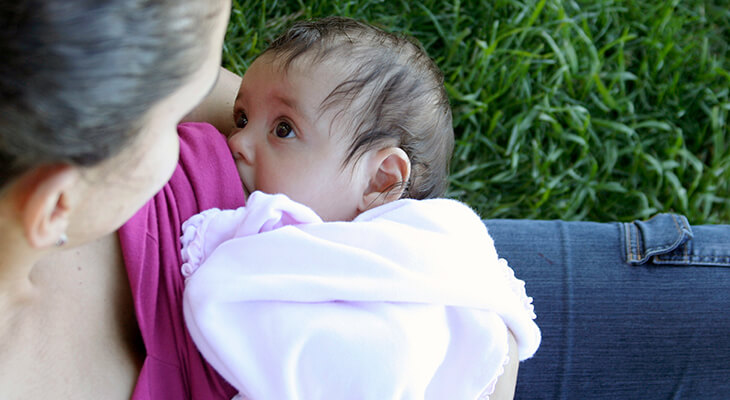 Good news for babies in Kentucky: More mothers in the commonwealth are giving their children valuable nutrients through breastfeeding, according to the Centers for Disease Control and Prevention's 2018 Breastfeeding Report Card. Data reported was from 2015.
The latest data show that 73.9 percent of Kentucky mothers have breastfed at some point, an increase from 66.9 percent in the previous report card, released in 2016.
Six months after giving birth, 48.6 percent of Kentucky moms are still breastfeeding, an increase from 35.3 percent in the previous report.
KENTUCKY LAGS BEHIND MANY STATE

S

Arkansas, West Virginia, Louisiana and Mississippi were the only states with lower rates of mothers who have ever breastfed. The study looked at all 50 states plus the District of Columbia, U.S. Virgin Islands and Puerto Rico.

"I'm encouraged that we have seen a 7 (percentage point) increase in the number of women who are at least starting their babies off by breastfeeding," said Elizabeth M. Doyle, M.D., director of lactation services for Norton Healthcare. "The report also shows that more women are still breastfeeding their babies at 6 months — a fantastic increase."
BREASTFEEDING HELPS MOTHER AND BABY
Studies show that breastfeeding has numerous health benefits for baby and mother. Breastfeeding can reduce ear infections, pneumonia, diarrhea/vomiting and sudden infant death syndrome. It also decreases a mother's risk of breast and ovarian cancers, as well as diabetes, high blood pressure and heart disease.
A study even discovered that more than 800,000 children's lives would be saved worldwide each year if nearly every mother breastfed her baby at birth. Studies also have shown that breastfeeding in the first hour of life is crucial for baby.
"It's incredibly important that we do everything we can to support mothers who wish to breastfeed," Dr. Doyle said. "That means providing any assistance they may need, whether it's simple words of encouragement, professional advice from a lactation consultant or even time to pump while at work."
Norton Healthcare provides several resources to help breastfeeding mothers. Lactation consultants are on hand when babies are born in a Norton Healthcare hospital, and appointments are available through the Baby Bistro & Boutique at Norton Women's & Children's Hospital on an outpatient basis. The Baby Bistro & Boutique also offers breastfeeding supplies, breast pumps and help for mothers with special needs.
In addition, Norton eCare offers 24/7 breastfeeding support through video visits for a wide array of breastfeeding questions and concerns.
Refer a patient
To refer a patient to any Norton Women's Care OB/GYN, click here for the online referral form, or call (502) 629-1234, option 3.
---