Patients with multiple sclerosis or another neurological diagnosis often can continue to drive, allowing them to keep a level of independence, following an assessment and any modifications or restrictions.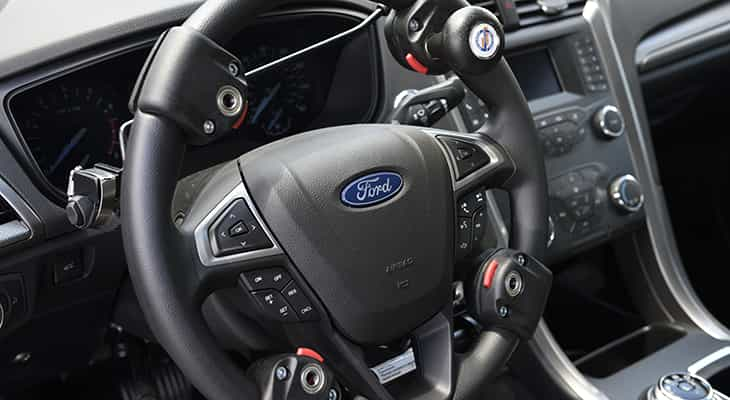 Patients with multiple sclerosis (MS) or another neurological diagnosis often can continue to drive, allowing them to keep a level of independence, once an assessment is conducted and any modifications and restrictions are adopted.
Driving with MS can become difficult due to manifestations of the disease ranging from arm and leg weakness to medication-related cognition issues and drowsiness.
Norton Healthcare offers a comprehensive driving assessment with a referral from a neurologist, primary care provider or other medical professional.
The Norton Hospital Driving Assessment Program is staffed by a licensed occupational therapist certified in driving rehabilitation and stroke rehabilitation who is also a low-vision specialist.
"The assessment isn't designed to take a person's independence away. It is designed to help maintain a level of autonomy and keep the patient and those around them safe," said Keegan Humphrey, occupational therapist with the program. "We will work with each patient and their families to develop an individualized treatment plan, to increase skills for safe driving with or without adaptive equipment."
Many states rely on drivers to disclose symptoms that could impact their driving. Failure to do so could result in legal penalties and denial of insurance claims.
"Many patients know they are unable to drive, while others aren't sure," said Geeta A. Ganesh, M.D., MPH, neurologist and MS specialist at Norton Neuroscience Institute.
Refer a patient
To refer a patient to Norton Neuroscience Institute, visit Norton EpicLink and choose EpicLink referral to Neurology-Multiple Sclerosis.
---
Multiple accidents, near-misses and moving violations are obvious signs driving is a problem. If someone does not want to be a passenger in your car, that's a sign that you may not be a good driver, according to Dr. Ganesh.
Assessing an MS patient's ability to drive safely
The assessment consists of two parts. The first is a clinical evaluation to assess the patient's vision, cognitive abilities and physical functioning skills. The second is a behind-the-wheel assessment in the specially equipped Norton Hospital Driving Assessment Program vehicle. The car has been modified to add a spinner knob, extra hand controls, a left-foot accelerator and a turn signal crossover that allows the driver to activate it with the right hand.
"The assessment will evaluate the patient's ability to operate the vehicle. For example, does the patient observe traffic signs or lights? Does the patient confuse brake and gas pedals? Does the patient have an appropriate reaction time when identifying obstacles and hazards on the road? If applicable, can the patient use high-tech equipment or visual-assistive devices?" Keegan said.
After the behind-the-wheel test, the results and areas of concern are discussed with the patient and their families, and accommodations may be recommended.
State driving requirements for people with MS and other neurological conditions
In Kentucky, drivers must be seizure-free for 90 days to drive and have visual acuity of at least 20/60 or better in at least one eye, 35 degrees of vision to the right or left of midline, and 25 degrees above or below the midpoint.
A medical review board for the state Department of Motor Vehicles has the authority to advise the Division of Driver Licensing based on the medical reports it receives about a driver.
The review board is aware of issues only when drivers self-report a seizure or other episode, or a physician, attorney, county clerk, circuit clerk or judge reports that someone is incapable of driving safely. The review board also considers a person's ability to drive when it receives affidavits from at least two citizens stating a person is incapable of driving safely.
In Indiana, there is no seizure-free period required. If a driver fails the vision screening, they must present a statement from an eye doctor confirming their vision has been corrected to meet state requirements. In Indiana, a physician also can sign a statement saying you have a medical condition that causes a driver to appear intoxicated.
Written requests to investigate a person's ability to drive in Indiana can come from medical professionals, law enforcement officials, court officials, a person with power of attorney, family members or any concerned citizen. The Bureau of Motor Vehicles can request additional medical information from a driver. If a driver ignores this request, the department can suspend the person's driving privileges.
---