With stroke patients, saving minutes from diagnosis and treatment can mean a patient walks out of the hospital ready to resume an active life.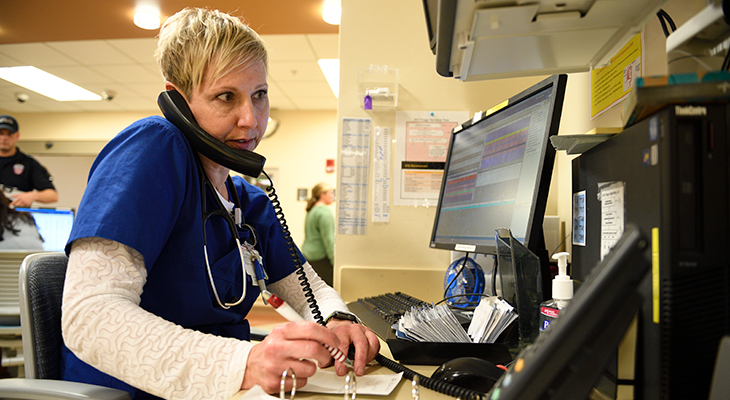 When a suspected stroke patient comes into the hospital, everyone on the team has assigned roles so care is delivered quickly and efficiently — picture a race car pit crew jumping over the railing to change tires, add fuel, make repairs. They all have a rehearsed job to do with speed and safety the top priorities.
It's much the same with stroke patients arriving at a Norton Healthcare adult hospital — all part of Norton Neuroscience Institute's comprehensive stroke system.
With stroke patients, saving minutes can mean a patient walks out of the hospital ready to resume an active life.
The goal is to administer tissue plasminogen activator (tPA), a serine protease that catalyzes the conversion of plasminogen to plasmin, to the right patients as quickly as possible. The plasmin enzyme breaks down peptide bonds, causing a clot to fall apart, so the sooner the drug is administered, the sooner the brain stops suffering damage.
Refer a Patient
Use Norton EpicLink to quickly and easily refer a patient to Norton Neuroscience Institute.
"Time saved is brain saved," said Nadeem A. Talpur, M.D., neurologist and medical director of the Stroke Program. "All of the research shows that the sooner we restore blood flow to the brain, the better outcome the patient will have."
Getting tPA to acute ischemic stroke patients quickly and safely is a key metric used by the American Heart Association (AHA)/American Stroke Association in awarding its Get with the Guidelines – Stroke designation. Implementing timesaving steps contributed to Norton Neuroscience Institute's comprehensive stroke system consistently beating the AHA's aggressive benchmarks.
For example, when emergency medical services teams notify the emergency department that they are bringing a suspected stroke patient, appropriate providers such as the Norton Emergency Stroke Team are poised to take up their assigned roles.
One of the critical steps implemented includes readying computed tomography (CT) scanning equipment and keeping a table free for the incoming patient. Another keeps kits of everything needed to mix and deliver the alteplase bolus dose. The kit is ready as the patient undergoes a CT scan. That way, if the decision is made to treat with tPA, the infusion can start right away.
Norton Neuroscience Institute's commitment to comprehensive stroke care starts with prevention and includes rehabilitation through Cressman Neurological Rehabilitation.
---