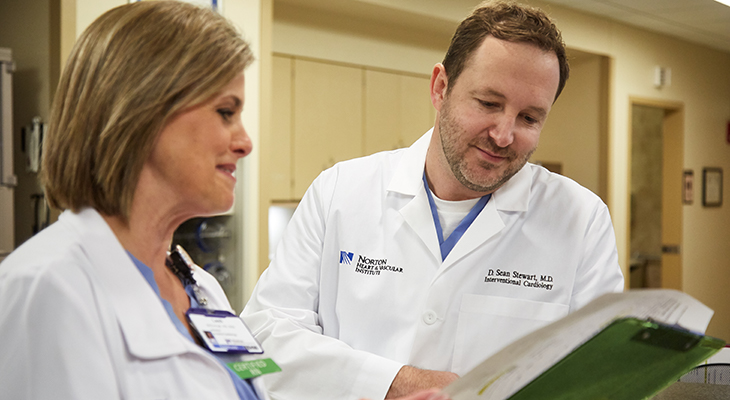 Sean Stewart, M.D., interventional cardiologist with Norton Heart & Vascular Institute, treats all his patients the way he would want someone to treat his family members. Especially his grandfather.
Dr. Stewart, the son of a physician, grew up with medicine in his sights. But it was a personal experience that narrowed his focus to cardiology.
While he was pursuing his undergraduate degree, Dr. Stewart got a call that his grandfather had suffered a heart attack. The heart attack caused damage to his heart muscle that required a long journey of procedures and bypass surgery, only to be followed by a debilitating stroke.
"My grandfather was from a rural community, and while he regularly sought treatment, I realize now he may not have had access to the level of advanced care we provide today and that may have made a difference in his quality of life," Dr. Stewart said. "He passed away in the middle of my residency, and that's when I decided cardiology was what I was supposed to do. I wanted to provide the kind of care that would improve quality of life for other people."
Dr. Stewart, who is medical director of the Norton Audubon Hospital Cardiac Catheterization Program, extends the idea of caring for family through his practice of interventional cardiology.
"One of the things I like about working for Norton Healthcare is that they hold values similar to what I hold, and we treat patients like family."
That, at the end of the day, is the reward for Dr. Stewart.
"We give quality of life back that you can't appreciate until you see it," he said.
Refer a Patient
To refer a patient to Dr. Stewart, use our online form.
---