With a novel surgical technique, hip replacement patients typically go home the same day.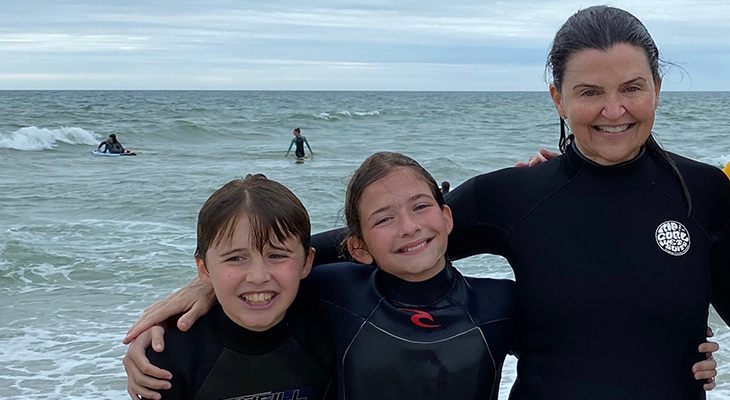 Lee Dulaney did her best to ignore the pain in her right hip for years. Steroid injections helped, but the pain persisted.
"I'd get steroid injections, and it would feel better for a while; and then the pain would come back." Lee said. "People would say, 'You're limping,' and I'd say, 'I know. It hurts.'"
Worst of all yoga, kayaking with her 11-year-old twins and other activities were becoming more and more difficult. One day, she was walking from a two-hour meeting when her hip simply stopped working. Only after massaging the joint was she able to make it to her car.
A week later, her orthopedic surgeon with Norton Orthopedic Institute, confirmed what Lee suspected. She needed hip replacement surgery. She was 54 at the time.
Surgery at 7 a.m., home about 1 p.m.
What Lee didn't expect when she went to Norton Orthopedic Institute was that she'd be home hours after her surgery and that she'd be active again in two months.
Lee had her hip replacement surgery at 7 a.m. on a December day. Instead of general anesthesia, she received an epidural for pain and a sedative to make her sleep. After surgery, she received a visit from a physical therapist and instructions on how to use a walker.
"They want you to get up and walk in the hospital. They make you do stairs," Lee said. She was home around 1 p.m. Lee started physical therapy the next day.
"This was the big thing. They send a physical therapist to your house to make sure you do the physical therapy as prescribed," Lee said. "They gave me exercises, and I did them religiously. They want you to keep moving."
Eight weeks after surgery, Lee was back to exercising, walking every day and becoming more and more active.
Norton Orthopedic Institute surgeons pioneered a less disruptive technique for hip replacements. Rather than access the hip from the back, making incisions in front makes for a faster recovery and less pain for most because key muscles are not affected during the surgery.
Refer a patient
Use Norton EpicLink to quickly and easily refer a patient to Norton Orthopedic Institute.
Back to yoga, kayaking and learning to surf
When she does yoga now, Lee is able to do poses she couldn't do before.
She's also back to kayaking on the Blue River in Indiana. She'd been worried she was going to have to give it up for good. Getting in and out of the kayak is no longer difficult.
After the hip replacement, Lee also said she isn't sore — and isn't limited in what she can do. This summer, Lee and her twins went surfing for the first time, on Nantucket Island in Massachusetts.
"I was telling the surfing instructor I got a new hip in December. The instructor said, 'No way dude,'" Lee said. "I won't say I got up for more than a few seconds at a time, but the hip worked fine."
Lee no longer endures the daily soreness and bone-on-bone pain in her right hip.
"It would be worse at the end of the day and stiff in the morning. I was very conscious I didn't have the full function on that right side. I'd be afraid I'd fall going down steps. I had to be careful," Lee said.
Lee's only regret is waiting as long as she did to get her hip replacement.
"If you can't do any of the things you like to do, don't wait. Get it done. Now you can go home the same day. It's amazing," she said. "There's no reason not to have it done."
---