The red flags of a secondary cause of headache that needs more urgent attention: Find out when to refer.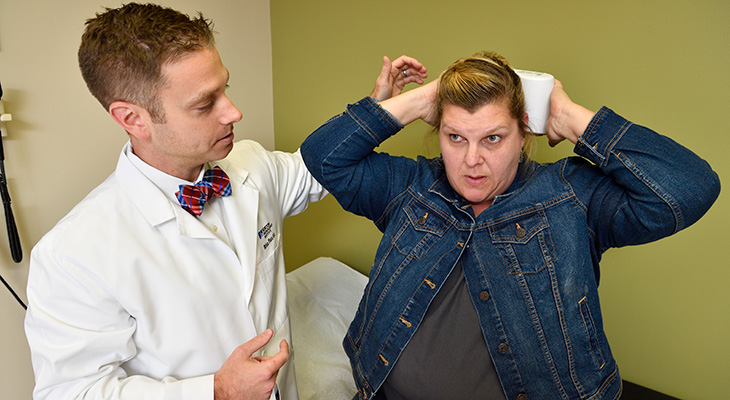 When are headache symptoms consistent with migraine or red flags of a condition warranting urgent or emergency medical attention?
Migraine occurs in a recurring pattern and can be diagnosed clinically, without MRI or other tests, according to Brian M. Plato, D.O., neurologist and director of headache medicine at Norton Neuroscience Institute.
Because migraine occurs in recurring pattern, progressive headaches, a change in headache pattern or a severe headache that is not part of pattern would signal red flags, according to Dr. Plato.
For example, a patient with a sudden "thunderclap" headache that reaches maximal intensity in under a minute and is not part of a pattern is an example of someone who warrants more urgent attention.
Dr. Plato spoke during a recent episode of the "MedChat" podcast, which offers evidence-based continuing medical education (CME) for physicians and other providers.
SNOOP mnemonic for headache red flags
The mnemonic SNOOP is useful to determine which patients present with headache symptoms considered red flags for something more serious:
Systemic symptoms, secondary risk factors
Neurologic signs/symptoms associated with headaches
Onset that is sudden/abrupt
Older than 50
Positional headache, prior headache now different, papilledema, pregnancy new onset headache
During the physical exam of a migraine patient, a fundoscopic exam is key to check the back of the eye to see if there is evidence of papilledema, according to Dr. Plato.
Approximately 12% of Americans experience migraine. The condition is three times more common in women than men and is most prevalent in patients in their mid-30s to mid-40s. Migraine can occur with or without aura, the transient neurological symptoms that either precede or accompany the headache phase.
Refer a patient
To refer a headache patient to Norton Neuroscience Institute, visit Norton EpicLink and choose EpicLink referral to Neurology-Headache.
---
The diagnostic criteria for migraine are a headache that lasts from four to 72 hours and has two of the following four characteristics: one-sided; throbbing or pulsatile; moderate or severe; or causes avoidance of activity. Migraine also has one of these two characteristics: light and sound sensitivity, or nausea and vomiting.
"I find it very useful to ask: How long do your headaches last for? Where does it hurt? How does it hurt? How bad does it hurt? What things do you want to avoid while you have a headache? Do lights and sounds bother you? Do you get a nauseous feeling and or vomit? Going through that collection of questions can get you to that clinical diagnosis pretty quickly," Dr. Plato said.
For patients with recurring headaches consistent with migraine an MRI is not necessary, because the probability of a normal MRI is close to 100%, according to Dr. Plato.
The American Headache Society launched a "Choosing Wisely" campaign with aims that include  reducing unnecessary imaging. The campaign's top recommendation is "don't perform neuroimaging studies in patients with stable headaches that meet criteria for migraine."
If a patient's symptoms do not follow the recurrent pattern of headache consistent with migraine, imaging will be considered, according to Dr. Plato.
Primary care physicians should refer to a specialist anytime they are outside their comfort level, according to Dr. Plato.
"If you are someone who feels very comfortable evaluating and managing migraine, super," Dr. Plato said. "I think that there are a lot of tools available to you. If it's something that makes you feel uncomfortable in your practice, I think it's in the best interest of patients to be seen by someone who's very comfortable with that."
MedChat is produced by Norton Healthcare's Center for Continuing Medical Education to provide evidence-based information with continuing medical education credit.
Subscribe wherever you get your podcasts
---