Acute treatment guidelines provide a 4½ hour tPA window for individuals with ischemic strokes. Find out how imaging could shift the standard more toward measuring infarcted tissue.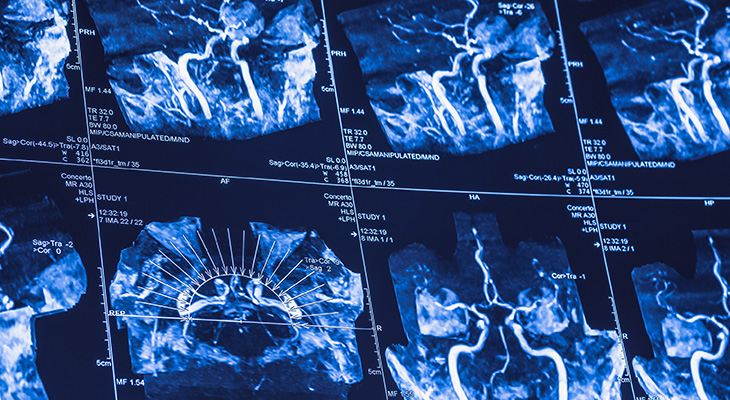 Additional data could lead to stronger guidelines extending the tPA window for ischemic strokes beyond the current 4½ hour limit in coming years, according to a Norton Neuroscience Institute stroke specialist.
A common scenario faced in stroke centers is a patient who awoke with a deficit but doesn't know when they had a stroke. The last known well was when they went to bed, many hours earlier, meaning they are not eligible for tPA.
Trials have suggested that patients who have had ischemic stroke but show no signs of infarcted brain tissue on imaging studies may be able to extend the tPA treatment window beyond 4½ hours," Danny R. Rose, M.D., a neurologist with Norton Neuroscience Institute, said during a recent episode of the "MedChat" continuing medical education podcast.
Looking at diffusion-weighted MRI and the fluid-attenuated inversion recovery (FLAIR) sequence for signs of edema associated with more permanent damage, it's possible to visualize how far a stroke has progressed, according to Dr. Rose. A recent, positive trial used tPA with perfusion imaging up to nine hours after last well time.
While more study and data is needed, "I expect when they update the acute treatment guidelines, there will be some talk about expanding the tPA window beyond the 4½ hours," Dr. Rose said. "Still, to this day, our No. 1 reason for people not being eligible for our acute treatments is they present too late."
Thrombolytics contraindications
All stroke patients receive a head CT scan to rule out intracranial hemorrhage, an absolute contraindication to tPA. Intracranial malignancy is also a contraindication to tPA.
Additional contraindications for tPA or other thrombolytics are any predisposition to bleeding, including patients who are coagulopathic or taking direct-acting oral anticoagulant (DOAC) medications for atrial fibrillation. For patients on warfarin, the international normalized ratio (INR) cutoff is 1.7. Anyone who has taken a DOAC medication in the previous 48 hours also is not a candidate for thrombolytic therapy.
A subset of severe stroke patients with large vessel occlusion are potential candidates for endovascular treatment to remove the clot, in addition to thrombolytics. These patients potentially are eligible up to 24 hours from onset of symptoms or last known well.
Refer a patient
To refer a patient to Norton Neuroscience Institute, visit Norton EpicLink and choose EpicLink referral to Neurology.
---
Advanced age and extremely severe stroke — 25 or above on the stroke scale — tend to have worse outcomes regardless of treatment, according to Dr. Rose.
TIA diagnostic changes toward imaging rather than symptoms
Diagnosis of TIA, too, has changed. Under the previous standards, if patients had neurological symptoms that went away in 24 hours, their diagnosis was TIA. However, up to a third or more of those patients actually had an infarct on their MRI.
"So, we have now been shifting away from a symptom-based definition of TIA to one that is tissue- or image-based," Dr. Rose said.
"ABCD squared" is a model of TIA prediction based on age, blood pressure, clinical features of TIA, duration of symptoms and history of diabetes. Designed as a risk stratification tool, it can help identify patients who warrant a more urgent workup, which can sometimes reveal critical pathology, according to Dr. Rose.
If someone has critical carotid stenosis, even if they have a TIA and no permanent deficits, they need to be revascularized relatively quickly, within a couple of weeks, according to Dr. Rose.
After a stroke or TIA, the chance of a second event in the short term is higher. In a subset of patients who have a high-risk TIA or minor stroke, the combination of aspirin and clopidogrel taken for three weeks can help prevent a second stroke without unduly raising the risk of a bleeding event.
MedChat is produced by Norton Healthcare's Center for Continuing Medical Education to provide evidence-based information with continuing medical education credit.
Subscribe wherever you get your podcasts
---