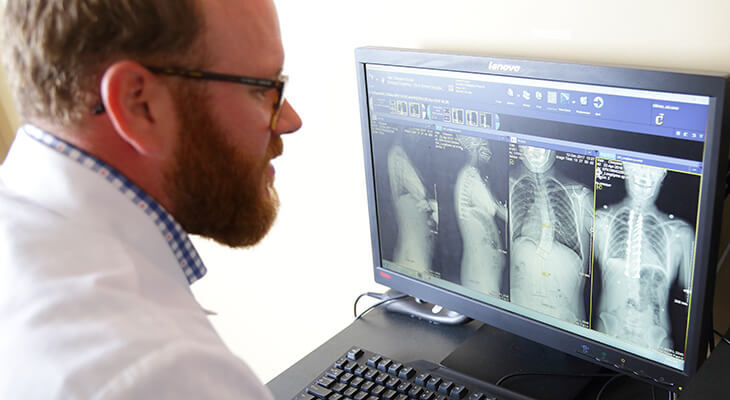 Jeffrey L. Gum, M.D.,  orthopedic spine surgeon with Norton Leatherman Spine, recently was quoted in Orthopedics Today about using robotic systems in orthopedic surgical applications. The article outlines the benefits and financial implications of having such a system, as well as projections for widespread adoption of these technologies.
"What we have found is we are making up money with length of stay because we are dissecting less muscle and the recovery of these patients is quicker. We are getting them out of the hospital quicker even though it may cost a little bit more in the OR," Dr. Gum told Orthopedics Today.
Dr. Gum discusses how to address costs and implementation of the expensive technology and how best to develop a solid adoption plan within an organization. He also cautions against drifting toward an entirely robotic-supported program instead of balancing between performing certain surgical tasks with and without mechanical assistance.
"We need to be careful as we move forward not to lose the art of freehand pedicle screw [placement] and rely on this technology, because, as we all know as we become more technology dependent, if that technology is not working, we could get into sticky situations," Dr. Gum said. "That is something we need to pay attention to as we move forward, to make sure our trainees are getting a balanced education on utilizing this technology and not utilizing it. So, if they get in that situation, they are not solely dependent on it."
Dr. Gum is known for embracing technology in spine care, including robot-assisted surgeries. He was instrumental in bringing the Mazor X Stealth surgical system to Norton Leatherman Spine and leading the implementation of this cutting-edge technology. He performed the first Mazor X-assisted surgery in the region in 2018. And in January 2019, he performed the first surgery in the world utilizing the most recent version of the technology, the Mazor X Stealth edition.
Refer a Patient
For more information or to make
a referral, call:
Or complete our online referral form:
---