Patient made a complete recovery and was discharged 2 days later after successful alteplase and mechanical thrombectomy treatments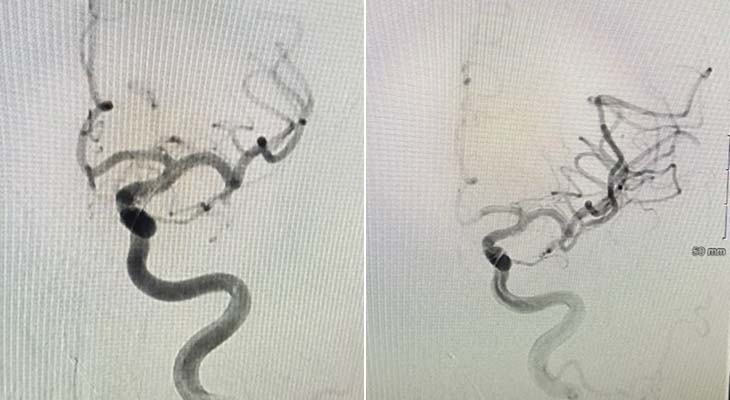 Incident details:

Date: 4/26/2022

Patient: Male

Age: 66

Arrival to emergency department:11 a.m.

Tom L. Yao, M.D., endovascular neurosurgeon, Norton Neuroscience Institute
 
Nadeem A. Talpur, M.D. stroke neurologist, Norton Neuroscience Institute
 
Richard Carlisle, M.D., emergency medicine physician, Norton Brownsboro Hospital
Presenting complaint
Confusion, comprehension deficit, slurred and garbled speech
Emergency medical services report
An ambulance was dispatched to the patient's home due to a 911 phone call from the patient's wife. Patient stated that he became confused while driving. Once home, he told his wife he was "not feeling right" and experienced slurred and garbled speech.
EMTs Dan Traian and Beth Goodlet from Anchorage Middletown Fire & EMS arrived on scene. After assessing the patient and getting an electrocardiogram (EKG), the responders found a new onset of atrial fibrillation (A-fib). The patient immediately was transferred to Norton Brownsboro Hospital, code stroke with lights and sirens.
Outcome
Once the patient arrived in the Norton Brownsboro Hospital emergency department, computed tomography angiography (CTA) imaging revealed a left middle cerebral artery stroke with M2 segment occlusion. Alteplase was given, and the patient was sent to the operating room for emergency mechanical thrombectomy. Intervention was successful using a stent retriever device, with thrombosis in cerebral infarction from 0 to 2b.
Post-treatment magnetic resonance imaging showed cortically based acute infarction within the posterior inferior left Sylvian fissure, and at the lateral posterior left temporal lobe, and temporal occipital junction.
The patient recovered well and was discharged home on day two. National Institutes of Health Stroke Scale score was 0 at discharge. Upon discharge aphasia was fully resolved, and patient was back to normal neurologically. Due to new onset of A-fib, patient was started on Eliquis and metoprolol for secondary stroke prevention. He also was found to have evidence of cardiomyopathy with an ejection fraction of 26%; cardiology recommended outpatient follow-up.
| | |
| --- | --- |
| | CT angiography showing left middle cerebral artery/M2 occlusion |
| | CT perfusion showing no core infarction (purple) with a penumbra volume of 65 milliliters (green) within the left hemisphere |
| | Angiography before treatment showing left M2 occlusion |
| | Angiography after treatment showing reperfusion of left M2 |
Refer a patient
Norton Neuroscience Institute provides comprehensive stroke and after-stroke care. Use EpicLink referral "Neurology."
---
---