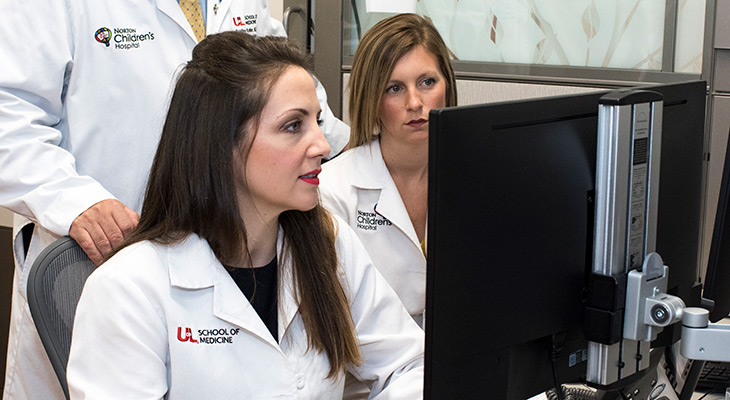 By Kim Huston
From working in a genetics lab to teaching yoga, Melissa Lee Perrotta, M.D., has found a way to blend all of her passions into one career. Her drive to understand and solve complex medical issues and her interest in integrative healing have led her to caring for patients with adult congenital heart disease (ACHD). She has joined Norton Children's Heart Institute, affiliated with the University of Louisville, as the assistant medical director of the adult congenital heart disease program.
Finding Her Path to Medicine
While she was an undergraduate student at the University of Georgia, some of Dr. Perrotta's yoga students would seek her advice on how yoga could help them with physical ailments. She wanted to provide them with solid information, so she began studying anatomy and physiology. She liked helping people find solutions for their issues but wished she could do more.
Dr. Perrotta was considering a doctorate in molecular genetics, but was still intrigued by her experiences helping others with yoga and her self-taught research. During her senior year, she decided to take the MCAT to "see what would happen."
"I needed a way to integrate these two sides of myself," Dr. Perrotta said. "This dichotomy of science and the Eastern aspect to healing."
She enrolled at the Medical College of Georgia, in Augusta.
Becoming a Cardiology 'Super Nerd'
At first, Dr. Perrotta didn't have a clear sense of what kind of medicine she wanted to practice. She enjoyed the coursework but yearned to work with people. That's when she started volunteering in night clinics run by the hospital's family medicine group. She worked in a homeless clinic, women's clinic and a clinic for Spanish-speaking patients, all of which provided free medical care to patients. She thought she wanted to go into family medicine.
However, the interest in integrative medicine was still there. Dr. Perrotta created an elective course at the Medical College of Georgia on integrative medicine. She worked at the Mind Body Institute in Athens, Georgia, where she created a yoga program for infertility. A fluent Spanish-speaker, Dr. Perrotta also spent time in Honduras, Nicaragua and Belize as a medical volunteer during her training.
Then, during her third year, she began an adult cardiology rotation and became a self-proclaimed cardiology "super-nerd."
"I had these heart sound cassette tapes for studying," Dr. Perrotta said. "During long drives on weekends I would listen to the tapes to learn and memorize heart sounds. There is something very Zen about listening to someone's heart. During a whirlwind morning where I had several patients to see, I needed to be still and quiet, and really pay attention to the sounds I was hearing. There was something about it that I really fell in love with."
She remembers seeing her first patient with adult congenital heart disease. The patient was in her early 20s and was "very blue," she said.
"I was in awe; listening to that patient's heart was so different — a cacophony of murmurs I'd never heard before," she said. "I thought she was fascinating. All of these different teams were working together to help her, but there was no one person who could address all of her needs. I thought, 'Wouldn't it be neat to be that person?'"
Making Heart Patients' Lives Better
From there, Dr. Perrotta started making decisions that would lead her to a career in caring for patients with ACHD. She did a combined internal medicine/pediatrics internship and residency at Case Western Reserve University in Cleveland, Ohio.
"It was a very resident-run program. As an intern on overnight call, I independently managed a 20-bed adult cardiac ICU, with the ICU fellow only available by telephone. This coverage model has since evolved, but at that time, I definitely learned a lot," she said.
Adult Congenital Heart Disease Care at Norton Children's
Call to refer a patient
She then completed a pediatric cardiology fellowship at Cincinnati Children's Hospital Medical Center in Ohio followed by an adult congenital heart disease fellowship with Stanford Health Care/Lucile Packard Children's Hospital Stanford in Palo Alto, California. While at Stanford, she was the "resident herbalist," as she was one of the few who understood side effects of supplements alongside an ACHD patient's other medications. During that time she built skills in cardiac imaging, including transesophageal echocardiography, transthoracic echocardiography and cardiac magnetic resonance imaging (MRI).
Dr. Perrotta enjoys caring for the unique challenges that patients with ACHD experience, such as complex, multisystem organ issues, and social and mental health concerns.
"I like having to delve into their history and piece everything together, almost like an archeological dig," Dr. Perrotta said. "Depending on which surgeon they had, the type of surgery, the year they had their surgery — all of these things affect what their current anatomy is like. If you just believe their charts, all of the information may not be there. The patient was a child so they may not recall parts of their health history, and some may not have records unless the parents have saved them."
ACHD Research Interests
Her research interests include electrophysiology in adult congenital heart disease as well as the mental and social challenges ACHD patients may have, including learning disabilities, anxiety and depression.
She is particularly proud of research projects, including "Quality Improvement in Institutional Fontan-Associated Liver Disease Surveillance Amongst ACHD Providers." She looked at how the providers at her institution screened for Fontan-related liver disease, as there were no programmatic screening guidelines. She helped develop a screening protocol for the ACHD program based on recently published guidelines, and then reviewed provider screening practices after six months of protocol use. Prior to the protocol's development, it brought to light the wide variety of methods physicians used to screen for the condition. After six months, there was significantly improved uniformity in how the providers in the group screened for Fontan-associated liver disease.
Additionally, she has studied neurocognitive deficits in patients with ACHD. She worked with a pediatric cardiologist researcher and his cardiogenomics lab to access the UK Biobank, a database of more than 500,000 patients. She completed a review looking at risk factors of developing neurocognitive disease, including coronary artery disease and mental health factors.
"Feeling isolated can be an issue for patients with ACHD," Dr. Perrotta said. "If you ask, 'Do you know anyone else with ACHD?' They often say 'no.' Some patients may be connected through social media, but others never think to look."
She wants to improve quality of life for Norton Children's ACHD patients by creating community among them through group visits for wellness topics, such as nutrition, self-independence and exercise. Some patients may have been told they shouldn't exercise when they were younger, but over time research has shown the opposite. Similarly, many women with ACHD are unsure if they can or should have children. With proper care and collaboration between an ACHD cardiologist, a maternal-fetal medicine specialist and the anesthesiology team, many women with ACHD can be managed successfully through pregnancy.
---