A young woman with neurological symptoms is quickly diagnosed and treated for an aggressive form of MS, leading to symptom resolution.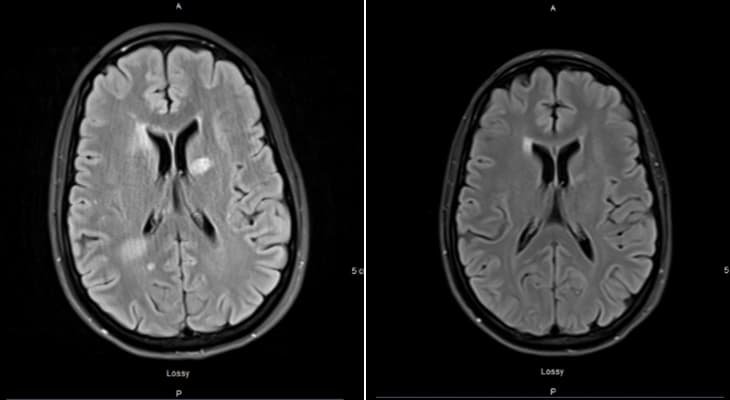 The patient
A 29-year-old woman with no major medical issues awoke with blurry vision. As the day went on, she began to see double. She looked in the mirror and saw that one of her eyes was pointing in the wrong direction. She also noted tingling across her body and severe fatigue. An immediate evaluation led to a brain MRI with and without contrast that showed multiple enhancing and nonenhancing white matter lesions consistent with a potentially aggressive course of multiple sclerosis (MS)
The challenge
The majority of people living with MS are diagnosed between the ages of 20 and 50. At least two to three times more women than men are diagnosed with this chronic disease. Our current version of the criteria for diagnosing MS, called the McDonald Criteria, allows neurologists to diagnose this disease earlier. It is important that patients consider a disease-modifying therapy as soon as possible. Time is brain, and waiting for this young woman to have another relapse before diagnosis and treatment could result in greater disability.
Multiple factors in this case suggest an aggressive form of MS that could lead to significant disability in her future. These risk factors include: young age at onset, multiple simultaneously enhancing lesions on one MRI and the presence of brainstem lesions.
The provider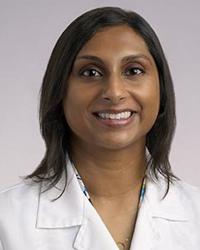 Geeta Ganesh, M.D., MPH
, a neurology specialist in multiple sclerosis at Norton Neuroscience Institute
The solution
The patient immediately started intravenous methylprednisolone, the standard treatment for an exacerbation. Treatment continued for five days total.
RELATED: Mental health and provider considerations when treating multiple sclerosis
The anti-JCV antibody index, a blood test to determine risk of progressive multifocal leukoencephalopathy (PML), showed that she was antibody negative. She was enrolled for natalizumab and was able to start this medication within a few weeks.
The MS nurse navigator addressed any ongoing concerns and guided the patient through the natalizumab enrollment process. The patient attended our MS101 class, an introduction to MS for those who are newly diagnosed. She spoke with our social worker regarding work accommodations. She attended our yoga and tai chi classes and many of the Norton Neuroscience Institute Hussung Family Multiple Sclerosis Center's presentations.
The result
Within months, the patient's symptoms had mostly resolved, including her double vision. Brain MRI after the start of treatment showed remarkable improvement. There were no enhancing lesions, and many lesions were smaller in size. She remains on natalizumab.

Brain MRI axial fluid attenuated inversion recovery (FLAIR) view. Comparable images before treatment in 2017 (left) and more recently in 2020 (right).
Treatment and results may not be representative of all similar cases.

Neuroscience Symposium
This year's event features specialized neuroscience providers
presenting clinical case reviews followed by discussion. Continuing education credits will be provided.
---