In the first three months after heart failure diagnosis, the heart can respond well to a neurohormonal blockade, greatly improving the chances of myocardial recovery.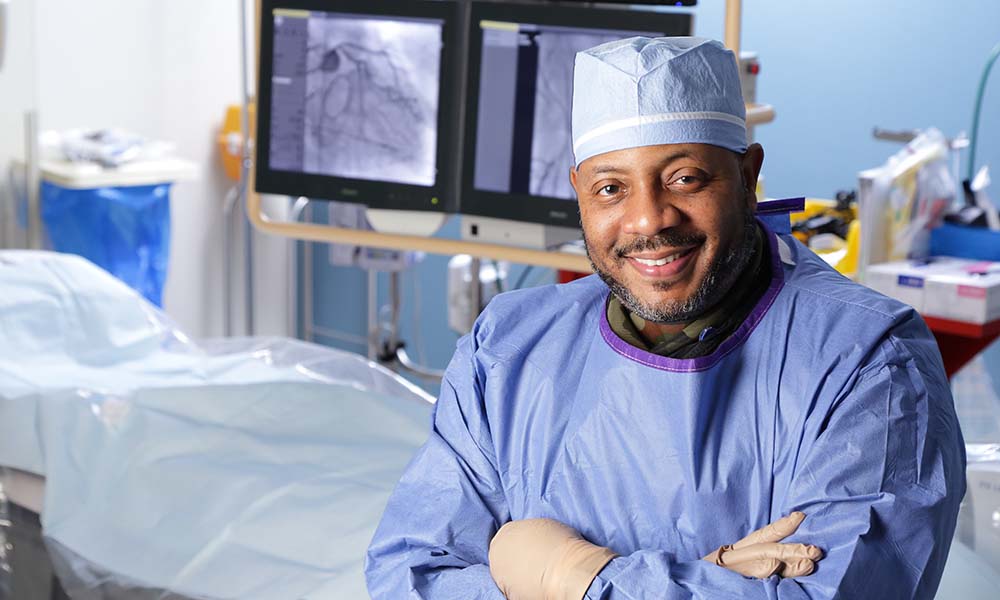 Newly diagnosed heart failure patients have a three-month window of care crucial to their likelihood of recovery. The difference can be returning to a normal life versus awaiting a heart transplant or mechanical circulatory support with a left ventricular assist device (LVAD).
In that three-month window, the heart can respond well to a neurohormonal blockade, but this treatment protocol is time-dependent. If we miss the window, we may have missed the chance at significant myocardial recovery.
What makes our program unique is our ability to up-titrate patients' medications and see patients frequently enough within that three-month time frame to ensure they are on optimal, guideline-directed medical therapy.
READ MORE: Pastor F. Bruce Williams' Heart Failure Recovery Story
Scheduling patients into busy clinical practices can be challenging. Fortunately, our program is designed with the personnel and resources to offer frequent follow-up and acute diuretic treatment as needed. If a patient is discharged from the hospital with a diagnosis of heart failure,  care in the first three weeks is critical to outcomes and reducing risk for readmission. Our program strives to see patients within seven to 10 days, or less, to titrate medical therapy.
Refer a patient
To refer a patient to the Norton Heart & Vascular Institute Advanced Heart Failure & Recovery Program, visit Norton EpicLink and open an order for Cardiology.
---
Myocardial recovery rate of more than 55% far exceeds national average
Our myocardial recovery program follows the four pillars of heart failure management:
Beta blockers
Renin-angiotensin-aldosterone neurohormonal blockade agents
Mineralocorticoid receptor antagonist
Sodium-glucose cotransporter-2 (SGLT-2) inhibitors
We see our patients frequently and have multiple touch points so we can achieve the dosages used according to clinical best practice. The average time it takes to achieve myocardial recovery is 4.2 months, based on our experience.
Our nationally recognized program is the first and only myocardial recovery program of its kind.   We've had over 1,500 patients go through our recovery protocol, and our recovery rate is greater than 55%. The national average for myocardial recovery is about 10%. Fewer than 5% of our patients in our myocardial recovery program have been readmitted for heart failure in that three-month window.
Patients with ejection fraction under 40% who have been on medical therapy for fewer than three months are candidates for the Norton Heart & Vascular Institute Advanced Heart Failure & Recovery Program. They can be referred from primary care, cardiology or nephrology. Inpatient referrals do not necessarily need a cardiology consult first.
We've found patients with nonischemic cardiomyopathy and minimal coronary disease are most likely to recover quickly on medical therapy. These are typically people with hypertension, diabetes, viral myocarditis and idiopathic cardiomyopathy.
Ischemic cardiomyopathy patients can do well as long as they don't have significant scarring on MRI — a scar burden greater than 10% — on the anterior wall of the heart muscle.
Dramatic transformations with our protocols
In our recovery program, we've had patients double their ejection fraction. For example, over the course of eighth months, one patient went from 25% to 60%. In two months, another went from 15% to 45%. Not only did the injection fraction improve, but their functional status improved. They were able to return to work and live normal lives.
The transformation can be dramatic for our patients. Many times, a heart that was damaged recovers, giving patients another shot at life without surgical intervention.
Kelly C. McCants, M.D., a cardiologist, is executive medical director of the Norton Heart & Vascular Institute Advanced Heart Failure & Recovery Program and executive director of the Institute for Health Equity, a Part of Norton Healthcare.
---