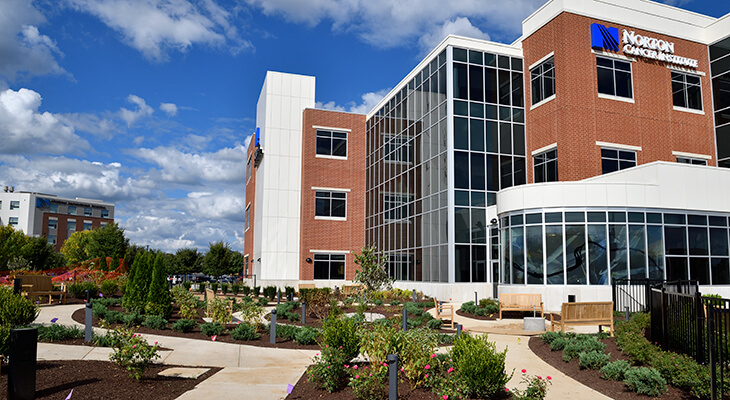 Comprehensive cancer services come together under one roof with focus on patient-centered care fueled by innovative design, advanced technologies and personalized integrated therapies.

This new $38 million comprehensive cancer care center in northeastern Jefferson County represents an investment that brings all Norton Healthcare oncology subspecialties and services together for the first time in one location."We thank our Board of Trustees for their commitment to meet the increasing and changing cancer care needs of our community and region," said Russell F. Cox, president and chief executive officer, Norton Healthcare. "This building represents our commitment to whole-patient care focused on compassion and respect."Many elements of Norton Cancer Institute – Brownsboro, such as the healing garden, quiet room, education center and patient care areas, were funded by the Norton Healthcare Foundation. These features, along with several others, were generously supported by individuals and businesses throughout the community who stepped forward to help further Norton Cancer Institute's work.

"We owe great appreciation to the Nixon family and our other donors for their generosity and leadership," Cox said. "Their support for this state-of-the-art facility will bring new hope and unique care to many patients and families touched directly and indirectly by cancer."

Kentucky has one of the nation's highest cancer rates. Norton Cancer Institute serves more than 4,000 newly diagnosed cancer patients each year and is the largest cancer care program in Louisville and the surrounding area.

The new facility joins Norton Cancer Institute's other locations in Greater Louisville, including radiation therapy and multidisciplinary clinics downtown, and a radiation center on the Norton Healthcare – St. Matthews campus. Norton Cancer Institute also has nine oncology practices throughout the city and in Shelbyville, Shepherdsville and Southern Indiana, plus numerous other services in Louisville and Southern Indiana.

"Our aim for Norton Cancer Institute – Brownsboro was to create a unique facility that delivers patient care in a way people had never experienced before," said Joseph M. Flynn, D.O., MPH, FACP, chief administrative officer, Norton Medical Group, and physician-in-chief, Norton Cancer Institute.

The new energy-conscious building is a three-story, 48,591-square-foot structure located at 4955 Norton Healthcare Blvd., across from Norton Brownsboro Hospital. It was designed by TEG Architects and constructed by Messer Construction Co. It took approximately 17 months to complete.
WHAT SETS THE NEW CENTER APART?
Norton Cancer Institute – Brownsboro delivers radiation oncology, medical oncology and infusion therapy in one convenient location. Other specialties providing services at the facility include hematology, neuro-oncology, orthopedic oncology and surgical oncology.
The new facility will use the most advanced radiation equipment in the region, plus a state-of-the-art oncology pharmacy. It will house Norton Cancer Institute's newest Prompt Care Clinic — available only through Norton Healthcare — to provide urgent care for oncology patients and help them avoid unnecessary emergency department visits outside regular office hours or scheduled appointments.
Advanced communication technologies will support multidisciplinary care conferences and maximize team efficiency through the use of a wireless person-to-person platform.
Other new technologies designed to improve care and give patients control of their cancer journey will include:
Wayfinding applications
Web-based education platform to help patients and families gain the best understanding of their cancer
In-house developed mobile apps for nutrition and health information
Electronic check-in and scheduling
Enhanced use of MyNortonChart and electronic medical records for communication
Patients will have continuing access to cancer research. A web based application will help make it easier to work with providers and understand which clinical trials best match the patient's needs.
According to Dr. Flynn, the new facility is driven by patient-centered care. "Our aim was to use space and advanced technologies strategically to create an environment that minimizes wait time and promotes harmony, well-being and advanced compassionate care."
Design features that set this facility apart include:
Streamlined registration and preregistration that use mobile apps and self-check-in kiosks
Curved main corridors and strategic use of colors, textures and materials to facilitate wayfinding
A more natural, less clinical feel from the use of natural daylight and 100 percent LED lighting.
A meditation quiet room with a striking art glass wall, healing garden, and various original paintings by local and regional artists
White/pink noise and music in key locations, along with special ceiling tiles and recycled-denim insulation to dampen noise and enhance acoustics
A premanufactured, adaptable wall and millwork system that serves as a flexible backbone, making it easy to adjust for future changes or needs with minimal cost and disruption
Improved efficiency and collaboration from "team rooms" and infusion rooms designed as "pods" around centrally located nursing stations
Amenities such as personal technology charging stations, wireless internet access and a bistro that features nutrition-rich, award-winning recipes that taste delicious and support healing
"Our mission is to stop cancer and ease suffering. We continue to make huge strides in treating cancer, but we can't forget the waiting and worrying it causes, so we are doing all we can to make things easier for patients and their families," Dr. Flynn said.
REFER A PATIENT
To refer a patient to any Norton  Cancer Institute provider, click here for the online referral form.
---