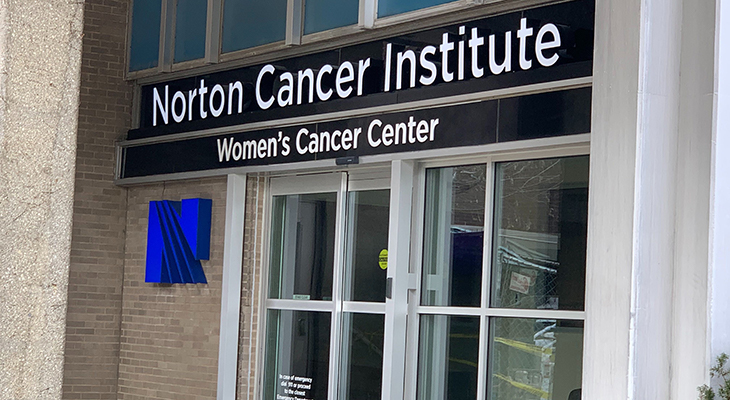 Projects to renovate Norton Cancer Institute – Downtown and create the nearby Women's Cancer Center have been completed and the facilities are open.
Norton Cancer Institute – Downtown (676 S. Floyd St.)
This site houses our Prompt Care Clinics for patients with urgent care needs related to cancer, hepatitis C and sickle cell disease. Infusion services are offered in the lower level, and advanced radiation therapy services continue to anchor the first floor.
The facility now has multidisciplinary care space for the Head and Neck Tumor Program and Comprehensive Lung Center. Expanded skin cancer resources include innovative technology.
The third floor houses a state-of-the-art oncology pharmacy and a chemotherapy suite.
Norton Cancer Institute Women's Cancer Center (234 E. Gray St.)
Located in Medical Towers South, this location houses administrative and provider offices, plus education and meeting space. The first floor houses a new women's cancer center with offices for gynecologic oncologists including Lynn P. Parker, M.D., along with six large gynecologic oncology exam rooms.
Other significant first-floor space includes a new expressive art and music therapy suite. The second floor houses new administrative offices for our research program. The fifth and sixth floors include a new central call and scheduling center and space for our financial services team.
Additional enhancements include a multidisciplinary breast clinic led by medical oncologist Laila S. Agrawal, M.D., and a designated pull-in valet area to facilitate quick service for those visiting for outpatient blood tests.
This project reflects a focus on making access to care easier and improving coordination among our multidisciplinary teams. Oncology is a rapidly changing field. As new treatments, technologies and processes emerge, Norton Cancer Institute is committed to planning ahead to meet the ever-changing needs of those we serve.
Refer a Patient
To refer a patient to Norton Cancer Institute, use our online form.
---