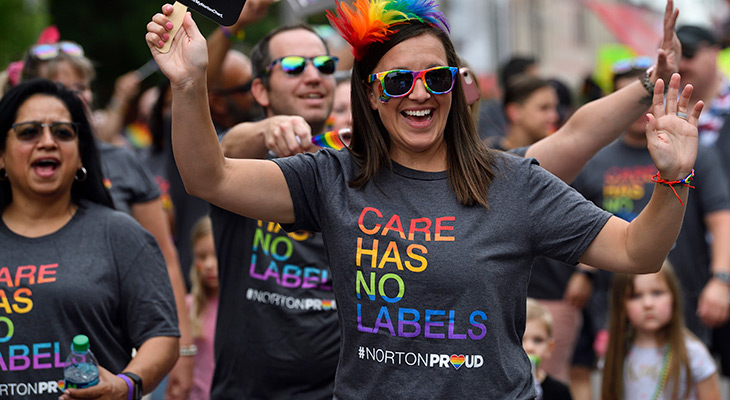 Norton Healthcare's five hospitals and Norton Cancer Institute have been named LGBTQ Healthcare Equality Leaders by the Human Rights Campaign Foundation for the second year in a row.
Norton Healthcare was one of 406 facilities nationwide to earn a top score of 100 points and receive the LGBTQ Healthcare Equality Leader designation.
"Norton Healthcare was founded on a mission of service to all," said Russell F. Cox, president and CEO, Norton Healthcare. "From non-discriminatory policies for both patients and employees to support of community events such as the Louisville Pride Festival, Norton Healthcare is committed to compassionate, quality care and to serving as an ally for the LGBTQ community."
The 12th edition of the HEI assesses participants on four criteria: non-discrimination and staff training, patient services and support, employee benefits and policies, and patient and community engagement. Facilities that receive the maximum score in each section earn the status as a 2019 LGBTQ Healthcare Equality Leader.
"In health care, we support patients and families when they are at their most vulnerable," Joseph Flynn, M.D., chief administrative officer, Norton Medical Group, and physician-in-chief, Norton Cancer Institute. "It's important our interactions and the care we provide align with our organizational values so our patients feel comfortable in all of our facilities."
A record 680 health care facilities actively participated in the 2019 HEI survey. In addition, the HRC Foundation proactively researched key policies at 1,000 additional nonparticipating hospitals.
Another 148 facilities earned the "Top Performer" designation for scoring from 80 to 95 points. With 81% of participants scoring 80 points or more, health care facilities are going beyond the basics when it comes to adopting policies and practices in LGBTQ care.
---