Physicians can refer patients to the Women's Heart Program, which offers care to meet the unique needs of a woman's heart during all stages of life, including pregnancy and menopause.
Norton Heart & Vascular Institute launched a Women's Heart Program in 1995. Today it has expanded to include more providers and services for a region where heart disease, especially in women, is a deadly issue.
According to the Centers for Disease Control and Prevention, heart disease is the No. 1 killer of women, taking the lives of about 1 in every 5 women. In addition, conditions associated with heart disease, including hypertension, diabetes, obesity and being overweight, along with lifestyle habits like smoking, put more women at risk.
"While these risk factors are not unique to women, the treatment and approach to care of women is different," said Li Zhou, M.D., cardiologist and medical director of Norton Heart & Vascular Institute Women's Heart Program. "As a specialist in women's cardiology, it is my job to advocate for women's health, specifically women's heart disease, which often goes under-recognized and undertreated. I believe focusing on women's heart disease will ultimately make her family and community healthier, especially in Kentucky, where women's risk for heart disease is higher than in neighboring states."
There are many stages in life when a woman's heart sustains additional risk. For example, during and after pregnancy, an area of special interest to Dr. Zhou.
"Heart conditions that arise during or after pregnancy come with an added layer of complexity," Dr. Zhou said. "Every medication the mother takes will interfere with her baby, and many times, the mother's heart condition also dictates how and when the baby will be delivered."
Dr. Zhou and Lauren R. Albers, M.D., cardiologist with the Women's Heart Program, work closely with primary care providers, OB/GYNs, maternal-fetal medicine specialists and other referring providers to establish a care plan tailored to each patient.
Refer a patient
To refer a patient to Norton Heart & Vascular Institute Women's Heart Program, visit Norton EpicLink and open an order for cardiology.
---
Physicians can refer patients to the Women's Heart Program, which offers care to meet the unique needs of a woman's heart during all stages of life, including pregnancy and menopause. The team specializes in comprehensive cardiac care of female-patterned heart conditions, including ischemic heart disease and spontaneous coronary artery dissection (SCAD), peripartum cardiomyopathy and stress cardiomyopathy.
Referrals to the Women's Heart Program can include:
Pregnant women with cardiovascular symptoms such as chest pain, palpitations, tachycardia, postural tachycardia syndrome, syncope and others
Postpartum women who have experienced a cardiac issue during pregnancy, including hypertension, preeclampsia or eclampsia
Women planning to become pregnant who have an existing cardiovascular condition or history of cardiac-related complications during pregnancy
A history of congenital heart disease
A history of coronary artery disease, including s/p percutaneous coronary intervention, and coronary artery bypass graft or spontaneous coronary artery dissection
Refractory hypertension or familial hyperlipidemia
Women with cancer who are undergoing potentially cardiotoxic chemotherapy
More female cardiologists providing care for women
In addition to the Women's Heart Program, the Norton Heart & Vascular Institute team has added four female cardiologists and several advanced practice providers to its staff over the past two years. Many of these providers subspecialize in electrophysiology, heart failure, structural cardiology and other areas.
The Women's Heart Program offers two fellowship-trained providers who take great interest in and study women's heart care.
Dr. Zhou practices a patient-centered philosophy of care that is born from a desire to become a care partner at every stage of a woman's life. She believes a physician needs to provide not only accurate information for their patient to make a reasonable decision, but also all treatment options.
"The best treatment plan is the one that is tailored to the patient's needs and values," she said.
Located in St. Matthews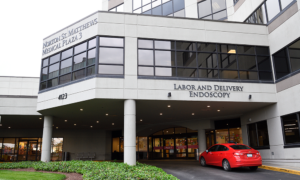 Norton Heart & Vascular Institute Women's Heart Program is located on the third floor of Norton Medical Plaza 3 – St. Matthews, on the Norton Healthcare – St. Matthews campus.
Before joining Norton Heart & Vascular Institute, Dr. Zhou led the Women's Heart Clinic at Wake Forest University, Winston-Salem, North Carolina, for more than six years and served as medical director of cardiac rehabilitation. She graduated from Zhejiang Medical University in Hangzhou, China, and earned her Ph.D. from the prestigious Peking Union Medical College in Beijing, China. Dr. Zhou completed an internal medical residency at Jacobi Medical Center/Albert Einstein College of Medicine, Bronx, New York, and completed general cardiology training at University of Illinois, Chicago. Dr. Zhou studied pathogenesis of atherosclerosis (how coronary artery disease develops) at UT Southwestern Medical Center, Dallas, Texas, using genetically modified murine models. She won the Postdoctoral Fellowship Award from the American Heart Association in 2008. In addition, Dr. Zhou led the ADAPTABLE trial at Wake Forest University that assessed the benefits and long-term effects of aspirin dosing in patients with heart disease. She has over 30 publications published in peer-reviewed journals, including the New England Journal of Medicine and JAMA Cardiology.
Dr. Albers completed her residency and fellowship in cardiovascular medicine at the University of Louisville School of Medicine. She earned her doctor of medicine from St. George's University College of Medicine in Grenada, West Indies.
---