The center will help provide patients with an accurate diagnosis of dementia and work with families to develop a care plan and find the support they need.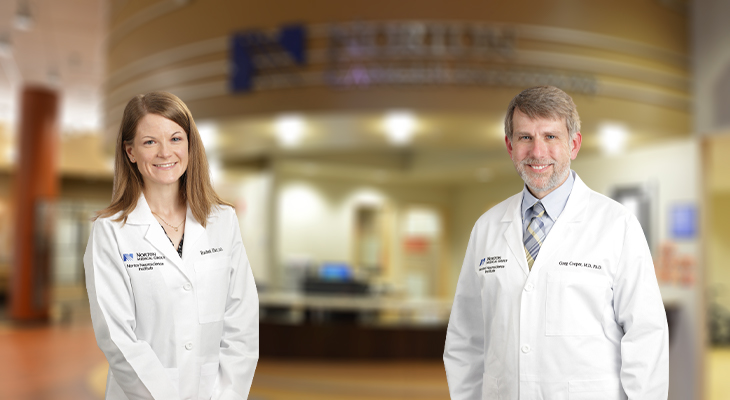 The new Norton Neuroscience Institute Memory Center provides multidisciplinary care to patients with memory impairment and their families.
Leading the care team at the multidisciplinary center are neurologist Gregory Cooper, M.D., Ph.D., and geriatrician Rachel N. Hart, D.O.
"One of the benefits of the program like the one we're creating is that we now become partners with primary care providers," said Dr. Cooper, medical director of the Memory Center. "We're not trying to replace them. Rather, we intend to be a partner and resource for both our primary care colleagues and our patients and their families. It's a tremendous unmet need."
The center will help provide patients with an accurate diagnosis of dementia and other memory-related conditions and will work with families to develop a care plan and find the support they need.
"All medical issues are more difficult to treat if you have memory impairment," Dr. Hart said. "The other thing that happens is there's a lot of caregiver stress."
According to Dr. Hart, addressing these needs can be extraordinary difficult in a typical primary care visit.
In addition to Drs. Cooper and Hart, the Memory Center team includes neuropsychologist Brandon C. Dennis, Psy.D., who works with patients and families. The center also has two nurse practitioners, an occupational therapist, a pharmacist and a social worker who can connect family members with support groups and other community resources.
Patients referred to the Memory Center will undergo lab work and brain imaging when needed. The Memory Center also plans to participate in clinical trials.
The right resources and the right support for patients and caregivers
Originally from Glendale, Kentucky, Dr. Hart jumped at a chance to return close to her hometown to be part of Norton Neuroscience Institute and the new Memory Center. Previously, she spent five years working with Summa Health System in Akron, Ohio.
Dr. Hart became interested in dementia while in high school after her maternal grandfather was diagnosed with Alzheimer's disease. She saw firsthand the growing challenge of finding the community support to care for a loved one with Alzheimer's.
"We want to be the place that has the right resources and support for caregivers," Dr. Hart said.
Refer a patient
Use Norton EpicLink to quickly and easily refer a patient to Norton Neuroscience Institute.
After going to the University of Louisville as an undergraduate, Dr. Hart attended medical school at Ohio University in Athens, and stayed in Ohio for her residency and fellowship at The Christ Hospital in Cincinnati.
Dr. Cooper directed a memory program in his native Lexington, Kentucky, prior to coming to Norton Neuroscience Institute to launch the Memory Center.
Dr. Cooper attended the University of Kentucky College of Medicine before his residency and fellowship at the University of Iowa in Iowa City, where he worked with neuroscientist and author Antonio Damasio.
A neurologist focused on memory disorders, Dr. Cooper earned a doctorate in molecular biology and originally planned to go into research, but during his training found he enjoyed caring for people in clinic more than working in the lab.
"I want to help individuals with memory disorders have the best quality of life they can," he said.
---