Multidisciplinary programs for breast cancer, lung cancer, upper gastrointestinal cancer, head and neck tumors, and brain tumors include patient-focused care and support.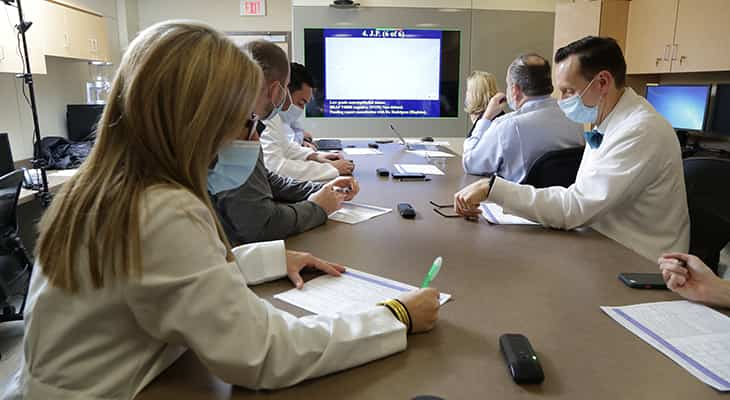 At Norton Cancer Institute, our goal is to have newly diagnosed cancer patients meet all the potential providers who could be part of their care. With that in mind — and more — we've established multidisciplinary programs for breast cancer, lung cancer, upper gastrointestinal cancer, head and neck tumors, and brain tumors.
Surgeons, medical oncologists, radiation oncologists and other specialists hold prospective care conferences to collaborate on the options to be considered for a patient's plan of care.
Refer a patient
Use Norton EpicLink referral "Oncology" to quickly and easily refer a patient to Norton Cancer Institute.
---
In addition to the expertise of subspecialty physicians, these multidisciplinary programs also offer patients access to navigators to help guide them through their care journey. Adding a layer of depth to the patient's care team are nutrition and dietary specialists, speech language pathologists, physical therapists, genetic counselors and others.
Our goal is to offer same-day access to a specialist. Patients may be coming from out of state or have family members with them for support who also want to meet us. It's important that we accommodate them as best as we can as quickly as we can.
There are other ways a multidisciplinary clinic can ease a burden on patients at this difficult time. With the multidisciplinary clinics, patients can see multiple providers on the same day. For patients traveling long distances to their appointments, this can be an enormous benefit.
We know how important the patient's relationship with the referring provider is. For that reason, Norton Cancer Institute's multidisciplinary clinics work closely with referring providers.
Norton Healthcare is a community-based system, so we're able to work with providers in our community, and referring providers will always be part of that patient's care.
Our outpatient infusion, radiation and patient resource centers stretch across the Kentucky and Southern Indiana area with a myriad of state-of-the-art treatment options closer to home for patients and their caregivers.
Our multidisciplinary clinics allow timely access to multiple providers, giving our patients quality and compassionate care all in one place.
---