Perfusion scanning allows doctors to see brain tissue that's still viable.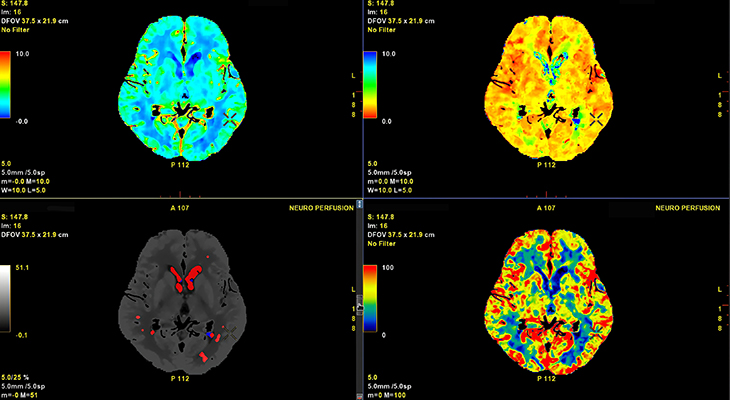 Time saved is brain saved, and in recent years we've gotten some more time to save more brain.
In 2018, the American Heart and American Stroke associations updated their guidelines to say perfusion scanning can make more patients with ischemic stroke and large vessel occlusion eligible for treatment up to 24 hours after symptoms first appear.
Perfusion scanning allows doctors to see brain tissue that's still viable. Prior to this technology, methods to select patients were not as advanced, and the time window was more limited. Ischemic strokes account for almost 9 in 10 strokes.
Even though the window for treatment may be 24 hours, time is still precious, and patients need to seek care immediately by calling 911.
When a patient is having a stroke, it's important to get to the closest certified stroke center as quickly as possible for the best outcome. All of Norton Healthcare's adult-service hospitals are certified stroke centers by The Joint Commission. Norton Brownsboro Hospital is certified a Comprehensive Stroke Center, the highest-level designation.
Refer a patient
Use Norton EpicLink to quickly and easily refer a patient to Norton Neuroscience Institute.
As the director of clinical effectiveness and stroke care, I am responsible for oversight of everything that has to do with stroke care at Norton Healthcare. This includes quality of care, staff, emergency medical services, community education, implementation of evidence-based treatments and nursing care. Luckily, I have an amazing team of support staff and providers to ensure all of this gets done.
Nothing is more important in community education than dispelling the "it can't happen to me" myth among young adults. Stroke is no longer their grandma's disease.
Lynn Hundley, APRN, CCNS, CNRN, ANVP-BC, is director, clinical effectiveness and stroke care, for Norton Healthcare.
---