Carpal tunnel, the most common type of peripheral nerve compression, is primarily a clinical diagnosis and is usually confirmed with a combination of physical exam and history.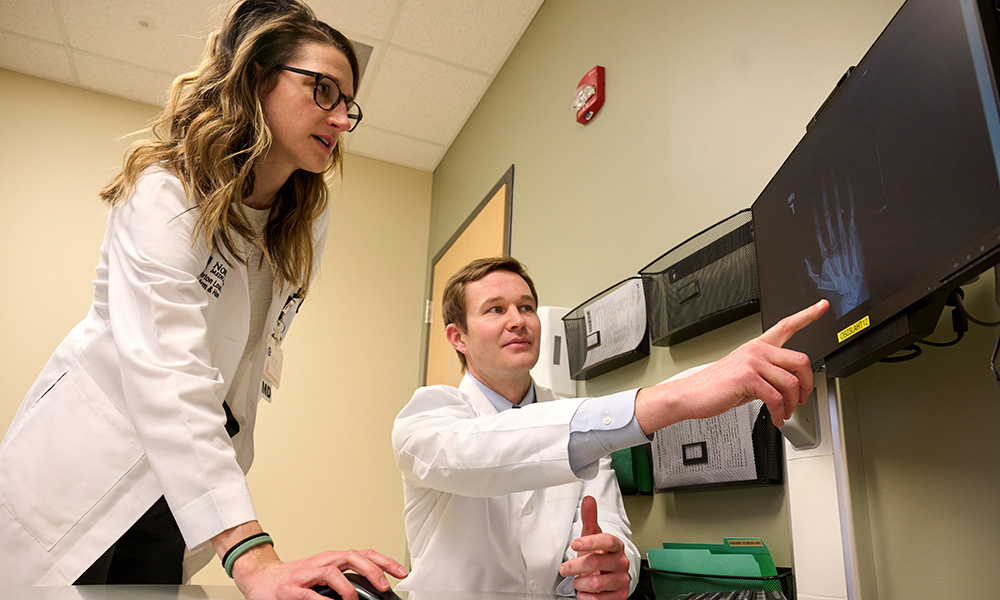 Carpal tunnel, the most common type of peripheral nerve compression, is primarily a clinical diagnosis and is usually confirmed with a combination of physical exam and history. A nerve test is also possible in cases where a diagnosis is not clear.
Risk factors for carpal tunnel include diabetes, obesity, excessive alcohol use and hypothyroidism.
Patients with carpal tunnel often describe numbness in their whole hand, especially at night. Some patients are more specific and present with atrophy or persistent sensory deficits in the thumb, long finger and index finger. 
Daytime activities such as driving, holding a cellphone, or even using a string trimmer on weeds or a lawnmower may exacerbate these symptoms.
"Phalen maneuver is one way to help confirm this diagnosis," said Luke P. Robinson, M.D., an arm and hand specialist with Norton Louisville Arm & Hand. "There are a couple of different varieties of it. Basically, it involves sustained wrist flexion, and that increased pressure in the carpal tunnel space causes symptoms, meaning more numbness and more tingling." 
Treatments for carpal tunnel generally involve using a brace, taking ibuprofen, getting a steroid injection and sometimes surgery.
Cubital tunnel
Cubital tunnel is the next most common peripheral nerve compression, presenting as numbness and tingling in the small finger,
These patients also may complain of weakness or a kind of hand dysfunction as the ulnar nerve innervates many small muscles of the hand. It's also important to check for dysesthesia, or abnormal sensation, on the dorsal ulnar aspect of the hand, according to Dr. Robinson.
"You can have patients open their hand up and say which fingers feel the most numb, with the idea that their pinky or their small finger feels not normal but their long finger and thumb feel totally normal. When you see that, you think cubital tunnel syndrome," Dr. Robinson said.
Dr. Robinson spoke during a recent continuing medical education opportunity, "Clinical Case Review: Diagnosis and Treatment of Hand and Arm Pain."
Refer a patient
To refer a patient to Norton Louisville Arm & Hand, visit Norton EpicLink and open an order for Hand Surgery.
A Tinel test at the elbow and the elbow flexion test are useful to confirm the diagnosis.
People at risk for cubital tunnel include diabetics and those who engage in some type of repetitive activity where they're doing a lot of hyperflexion. 
Treatment includes activity modification, therapy, an elbow brace and an elbow pad. At night, the pad can prevent hyperflexion. During the day, putting the pad right over the ulnar nerve provides a little bit of compression and may help minimize symptoms. 
Nonsteroidal anti-inflammatory drugs (NSAIDs) and surgery are often helpful if symptoms are recalcitrant to conservative measures.
Double crush syndrome
Another type of peripheral nerve compression is called double crush syndrome, or double crush neuropathy, where a pinched nerve in the neck as well as somewhere in the periphery, either at the cubital tunnel or carpal tunnel, may generate significant symptoms. 
"It's kind of like a one plus one is three," Dr. Robinson said. "One thing to ask that's important is, 'Do you have numbness in your feet?'" 
The most common cause of peripheral neuropathy is idiopathic. Numbness in the feet shows whether the patient has a diffuse polyneuropathy or more of an isolated peripheral compressive neuropathy. Diabetic neuropathy often presents with concomitant peripheral compressive neuropathies. 
Nerve studies can help identify whether neuropathies are compressive neuropathies or a systemic or metabolic issue like in diabetic neuropathy.
---