Norton Neuroscience Institute is enrolling patients in a phase 3 trial of a drug that could reduce brain levels of amyloid — thought to be the cause of Alzheimer's disease.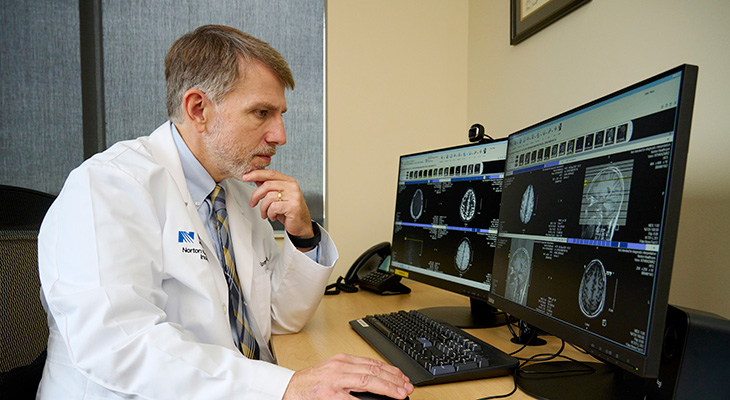 Patients who are cognitively normal but have a family history or other concern about developing Alzheimer's may be eligible to participate in a study looking at whether an investigational drug can slow or prevent the disease.
Norton Neuroscience Institute is one of 230 centers around the country participating in the phase 3 trial of a drug designed to reduce brain levels of the toxic protein amyloid. Accumulation of amyloid is thought to be the cause of Alzheimer's disease and may begin 10 to 20 years before symptoms arise.
"What we hope to learn is if we intervene early with a medication that removes amyloid from the brain, can we prevent the symptoms of Alzheimer's," said Gregory E. Cooper, M.D., Ph.D., a principal investigator in the trial, chief of adult neurology, and director of Norton Neuroscience Institute Memory Center. "There have been a lot of failures in medications removing amyloid in the past. It could be because we're intervening too late."
The Eli Lilly TRAILBLAZER-ALZ 3 study aims to determine whether the monoclonal antibody donanemab benefits those with high enough amyloid levels to suggest they are at risk for developing Alzheimer's.
In order to be eligible for the study, participants must be 55 to 80 years old; have normal memory, thinking, and behavior patterns; have a partner who knows them and is willing to attend appointments with them throughout the study; and meet a threshold for amyloid levels in the brain. Would-be participants whose amyloid levels are too low will be excluded from the study.
Four-part donanemab Alzheimer's prevention trial
The study has four parts.
An initial screening period that is currently enrolling patients at Norton Neuroscience Institute
Administration of either the investigational drug or a placebo in 10 visits over nine months
An observational period, with six remote visits over three years
An 11-month extension in which people assigned the placebo may have the opportunity to receive the investigational drug
Eli Lilly is hoping to enroll 3,300 people in the clinical trial by the end of the year. To make it easier for participants' transportation issues, the company has limited the number of times participants need to meet face-to-face with study investigators.
TRAILBLAZER-ALZ 3 trial enrollment
Norton Neuroscience Institute is currently recruiting patients for the TRAILBLAZER-ALZ 3 clinical trial. Email for more information.
For individuals concerned about Alzheimer's disease, this is an opportunity to help find a better treatment and ultimately beat the disease, according to Dr. Cooper.
"It's hard to find a family not effected by Alzheimer's disease in some way," he said.
As the population ages, the number of people living with dementia is expected to nearly double every 20 years, lending urgency to studies like this one.
"We are facing a tsunami of dementia in the future. If we can do something to prevent that, it would be transformative, not only for patients and their families, but for society as a whole," Dr. Cooper said.
Finding effective treatments for Alzheimer's disease has frustrated researchers because the disease is complex and still not fully understood, despite decades of study.
"It's not an exaggeration to say if we develop a treatment that effectively prevents dementia it would be one of the great medical breakthroughs of our lifetime," Dr. Cooper said.
Recently Published Neuroscience Research from Norton Neuroscience Institute and Norton Healthcare Physicians
---