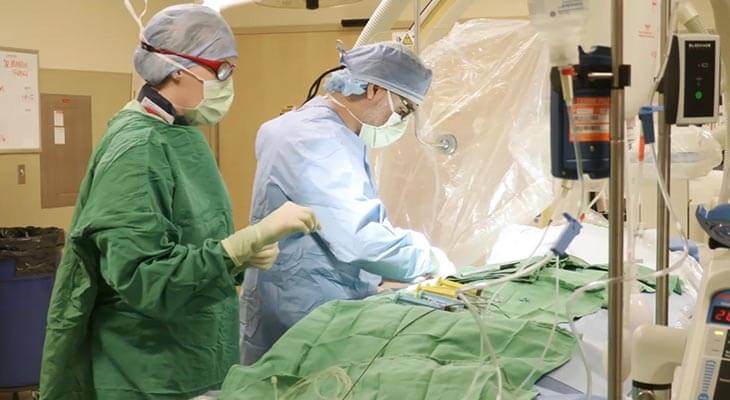 Endovascular neurosurgeons at Norton Neuroscience Institute are among a handful of physicians in the country accessing the brain through the radial artery rather than the femoral artery to treat aneurysm or stroke.
The radial approach allows patients of Mahan Ghiassi, M.D., endovascular neurosurgeon with Norton Neuroscience Institute, to recover faster because general anesthesia isn't necessary.
Faster recovery
Patients can get up and move around right after the procedure. With the traditional femoral artery approach, patients must remain on their backs for several hours after treatment.
Refer a patient
To refer a patient to Norton Neuroscience Institute, use the:
There's also less pain during recovery and no scarring.
Tina Terrell had an aneurysm rupture in 2012. The massage therapist from Paducah, Kentucky, first sought treatment in Tennessee, where doctors used the femoral approach. When she needed additional treatment last year, doctors referred her to Norton Neuroscience Institute.
"I was told the expertise and service at Norton rivaled the best hospitals around," Tina said. "And they were right."
Related Content: New device is big advancement in brain aneurysm treatment
Tina needed a special stent that allowed the body to eliminate the aneurysm. Typically, placing the stent required invasive brain surgery. She met with Dr. Ghiassi, who recommended the radial approach. She's glad he did.
"I went home the day after the procedure and was back at work several days after that," she said. "The recovery was great. As a massage therapist I use my wrists a lot, and the procedure didn't slow me down. I'm feeling great and was so pleased with the compassionate care I received from everyone."
'The future of treatment'
Dr. Ghiassi is using the treatment for both emergency and nonemergency strokes and aneurysms.
---