Individuals affected by neurological, orthopedic or developmental conditions, and those who have experienced age-related changes in function, can safely return behind the wheel.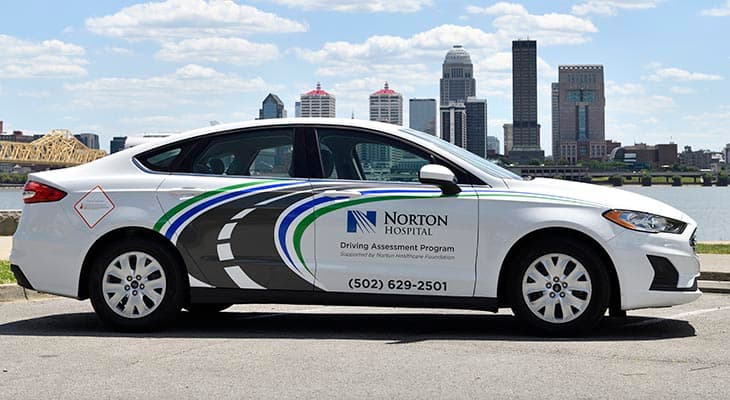 For individuals who have been unable to drive a vehicle due to neurological, orthopedic or other conditions, or for those who have experienced age-related changes in function, the loss of independence can be devastating.
The Norton Hospital Driving Assessment Program, a service of Norton Neurosciences & Spine Rehabilitation Center, assists in returning individuals to safe, independent driving.
Driving assessments are given by a licensed occupational therapist certified as a driving rehabilitation specialist, stroke rehabilitation specialist and low vision specialist. The therapist assesses vision, visual-perceptual skills, physical ability (reaction time, strength and mobility) and cognitive skills (attention, decision-making, memory).
Refer a patient
Use Norton EpicLink to quickly and easily refer a patient to Norton Neurosciences & Spine Rehabilitation Center.
---
What the driving assessment program looks like
The vehicle looks very normal on the outside, but it's quite different behind the wheel. The car is designed to help people overcome limitations.
Besides the typical steering wheel and pedals, the car is equipped with spinner knobs, extra hand controls, a left foot accelerator and a turn signal crossover that allows the driver to activate the signal with their right hand.
If necessary, the driving rehabilitation specialist can develop an individualized treatment plan to increase skills for safe driving with or without adaptive equipment.
All vehicle modifications are installed by National Mobility Equipment Dealers Association-certified specialists. Individuals who need modifications require a prescription detailing their personal needs to ensure driving safety. A final evaluation will be completed after the specific modifications are installed in the vehicle a patient will be driving to ensure it meets the patient's needs.
What's required to participate in the driving assessment program
A referral is required and must include all pertinent diagnoses and contact information; the program will then contact the patient to schedule an appointment.
A valid driver's license or permit is required for the on-road assessment and training.
Pre-admission paperwork to review the individual's driving history.
The driving assessment program is not covered by health insurance at this time.
---