After many put off their preventive cancer screenings, Norton Cancer Institute is working to screen as many people as possible as early as possible for lung, colon and breast cancers.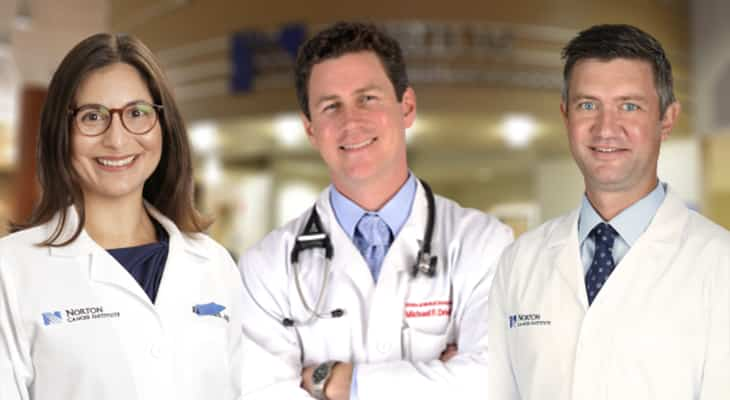 After many put off their preventive cancer screenings, Norton Cancer Institute is working to screen as many people as possible as early as possible for lung, colon and breast cancers.
Adding urgency to the effort, Kentucky's lung cancer rate is highest in the nation; it is second-highest for colon cancer and 25th for breast cancer, according to the U.S. Cancer Statistics Working Group.
Norton Healthcare has adopted the newest screening guidelines to catch these cancers earlier.
The number of people who may qualify for lung cancer screening more than doubled in March 2021 when the U.S Preventive Services Task Force (USPSTF) recommended anyone ages 50 to 80 with a 20-pack-year smoking history who currently smokes or has quit within the last 15 years to undergo screening with low-dose computed tomography (LDCT). Examples of 20 pack years are a pack a day for 20 years or two packs a day for 10 years.
"With Kentucky having the worst smoking rate, this is really something that is our duty to get our fellow Kentuckians who are eligible screened so we can detect lung cancer when it's curable," said Adam D. Lye, M.D., medical oncologist with Norton Cancer Institute.
The new USPSTF guidelines lowered the age at which people qualify for testing from 55 to 50, and lowered the number of pack years from 30 to 20.
The LDCT is quick, taking only seconds, and delivers about the same radiation as flying in a plane. Typically, it also is covered by insurance. The test should be done annually, so the patient's lungs can be followed over time to watch for changes.
Norton Healthcare also offers a free, comprehensive smoking cessation program and a program specifically for teens. Patients can sign up at NortonHealthcare.com/QuitSmoking.
"I've diagnosed many dozens of early-stage lung cancers, and patients are always thankful because a potentially lethal disease was caught and the patient can be cured," Dr. Lye said.
Patients can call (502) 629-LUNG (5864) to get more information about a lung screening or speak to a patient navigator.
Refer a patient
To refer a patient, visit Norton EpicLink and choose EpicLink referral to "Colonoscopy" or Lung Screening CT." Screening mammograms can be scheduled directly at NortonHealthcare.com/Mammogram.
---
Colorectal cancer
As with lung cancer, catching colon cancer early makes all the difference. Data shows that 90% of colorectal cancer is preventable with early testing. Ideally, screening finds polyps before they have a chance to turn into cancer.
USPSTF recently has changed its guidelines to align with other major organizations' recommendations such as American Cancer Society (ACS) and American Society of Clinical Oncology (ASCO), which are now recommending screening for average risk at age 45. Previously the recommendation for average risk patients was 50.
"The new colon cancer screening guidelines were adopted as the result of a 20 percent increase in colorectal cancer diagnoses in people less than 50 years old in the last 10 years. Diet, obesity and smoking appear to be the biggest factors behind the increasing risk among younger adults," said Michael F. Driscoll, M.D., director of Norton Cancer Institute's gastrointestinal malignancies program.
People with a first-degree relative are considered higher risk and should be screened at least 10 years prior to the age the first-degree relative was when diagnosed. Also, if someone has a strong family history of colorectal cancer or polyps, they should have genetic testing to rule out inherited conditions such as Lynch syndrome or familial adenomatous polyposis (FAP), which can confer a significantly higher risk of colorectal cancer, sometimes with cancer diagnoses beginning in their 20s.
"With colorectal cancer, it is very important to know family history," Dr. Driscoll said.
To promote screening, Norton Healthcare has reached out through primary care offices, launched a media campaign and instituted Saturday screening colonoscopies to make it easier for those who work during the week or need a ride with someone who does. Stool DNA tests such as Cologuard are available for people of average risk. These tests usually are not as sensitive at picking up cancers or precancerous lesions as colonoscopy, which is still the gold-standard test.
"We live in a great time where we have had many advancements in treating colorectal cancers, from treatments such as robotic surgery, advanced radiation techniques and advanced therapies such as immunotherapy. However, the best cancer to treat is the one that never happens," Dr. Driscoll said.
Patients can schedule a screening colonoscopy at NortonHealthcare/Colonoscopy.
Breast cancer
With breast cancer, too, early detection makes the difference.
"Cancers diagnosed at an early stage are more likely to be cured. Also, earlier-stage cancers may require less intensive treatments to achieve excellent outcomes — for example having a lumpectomy instead of a mastectomy or in some cases avoiding chemotherapy or radiation," said Laila S. Agrawal, M.D., medical oncologist at Norton Cancer Institute.
Patients need to know whether they are at average risk for breast cancer or at increased risk — due to family history, medical history or genetic mutations such as BRCA1 or BRCA2. This risk assessment can be done through a primary care physician or gynecologist, or through a Breast Health Center at the Norton Breast Health Center – Brownsboro, Norton Healthcare Pavilion or Norton Women's & Children's Hospital.
For those at average risk of breast cancer, the National Comprehensive Cancer Network (NCCN) recommends starting yearly mammograms at age 40. The American Cancer Society guidelines also state that yearly screening mammograms can start at age 40.
Neither of these organizations sets an age to stop screening mammograms, but they recommend discontinuing mammograms when life expectancy is less than 10 years.
In contrast, the USPSTF recommends screening every other year for those ages 55 to 74. USPSTF notes that for those ages 40 to 49, screening mammograms may reduce the risk of breast cancer death, but there are higher false positives and biopsies. This recommendation is currently under review.
For those who are at increased risk of getting breast cancer, screening may start at a younger age and use breast MRI in addition to mammograms. Genetic screening is a way to assess that risk. People who are diagnosed with certain types of cancer or are diagnosed at a certain age may qualify for genetic testing. Someone who doesn't have cancer but has a family member with cancer or a genetic mutation also may qualify for genetic testing. This could lead to changes in screening to catch a cancer sooner or even interventions that can lower the chance of getting cancer in the first place.
Norton Cancer Institute offers 3D tomography, a more sensitive type of mammogram that can catch more cancers and reduce the need for being called back for an abnormal mammogram.
"We continue to work our hardest to prevent, diagnose and treat cancer and provide the best care in these challenging times," Dr. Agrawal said.
Patients can schedule a screening mammogram at NortonHealthcare.com/Mammogram.
---