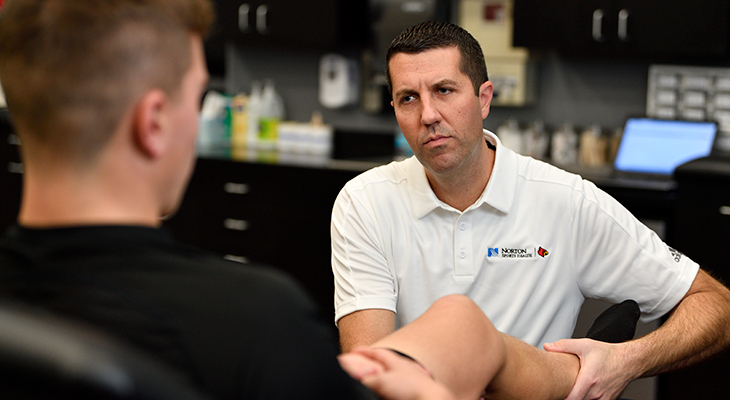 By David Steen Martin
With Norton Sports Health teaming with the Louisville Cardinals as official health care provider, Chad Smith, M.D., is the head team physician for University of Louisville football as well as an orthopedic surgeon with Norton Orthopedic Institute and Norton Sports Health.
Dr. Smith's role with the team includes preventive care and treating injuries. Other patients can benefit from his expertise at Norton Sports Health and Norton Orthopedic Institute.
"We take care of patients of all ages and activity levels," Dr. Smith said.  "We take care of sports injuries, arthritis, trauma, providing nonoperative and operative options, including arthroscopic surgery and joint replacements."
Norton Orthopedic Institute has more than 80 providers, including orthopedic surgeons who see patients at 30 locations in Louisville and surrounding communities, including Southern Indiana.
Refer a Patient
To refer a patient to Norton Sports Health or Norton Orthopedic Institute, use our online form.
"When treating athletes, not only is our goal to get them back to the field as quickly and safely as possible, but also back to the same level of competition and performance." Dr. Smith said.
According to Dr. Smith, with patients who are not athletes, the goal is still getting people back to their previous lifestyle and fitness level. In the case of arthritis, the aim is reducing pain.
Most of Dr. Smith's patients receive more conservative treatments than surgery.
"We're happy to get you better and get you doing what you want to do," he said. "If you have a knee replacement or hip fracture surgery, we want to get you up and going right away. Over time, the pain subsides, and you can comfortably walk to church or the grocery store. That's a success, too."
Dr. Smith enjoys developing a relationship with patients and their families. With all his patients, Dr. Smith takes the time to listen.
Dr. Smith grew up in Oldham County, outside Louisville, playing football, baseball, and tennis.
He attended the University of Louisville as an undergraduate and for medical school. He did his medical residency at the University of Toledo Medical Center in Ohio and a fellowship in sports medicine at Wake Forest University in Winston-Salem, North Carolina.
Dr. Smith then began practice in a small town in Southern Indiana, taking care of the athletes from several local high schools. Caring for NCAA Division I athletes is a dream come true for Dr. Smith.
"Taking care of patients of all ages and activity levels has been very rewarding," Dr. Smith said. "My new role allows me to treat these collegiate athletes on and off the field."
---