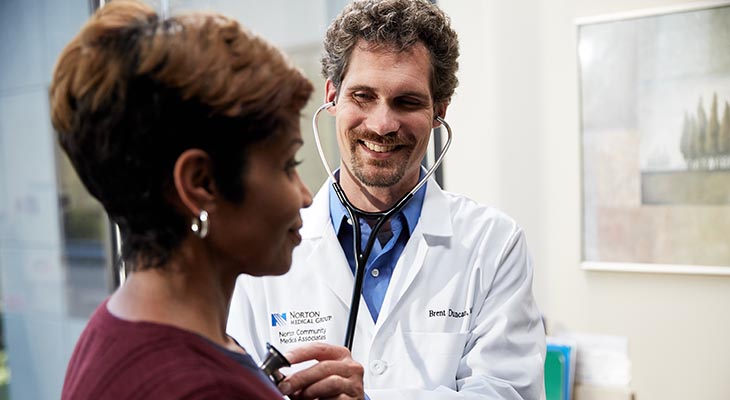 The primary care provider is the first line of defense against colon cancer, yet for every two patients who are referred by their physician to get colonoscopies, only one of them will end up completing the important cancer screening.
The reasons why people don't get colonoscopies
A common reason for not scheduling a colonoscopy: Patients report they are "too busy." There are also barriers to access, including lack of insurance and transportation/logistical issues. Fears of pain or embarrassment add another layer of complexity.
"Many people don't think they have anything to worry about," said  Michael F. Driscoll, M.D., oncologist with Norton Cancer Institute. "They think, 'I don't have any family history of colon cancer; I'm not having problems now; I'm fine.'"
Additional reasons for not scheduling a colonoscopy include a heavier focus on other health concerns, and health system barriers such as patients not knowing it is their responsibility to call to schedule an appointment.
"About 40% of noncompleters, regardless of any fears or concerns they might have had about colonoscopy itself, encountered system barriers to scheduling the procedure or completing pre-admission paperwork," Dr. Driscoll said.
So how can more people get the screening that they should? Better communication between providers and patients, better assistance in resolving logistical barriers, and improvements to referral and scheduling mechanisms can help.
What about the doctor?
The patient must take on part of the responsibility for scheduling a colonoscopy, but what role does the primary care provider play in increasing the completion rate of colorectal cancer screenings? Put simply, they need to refer more patients for colonoscopies and help patients navigate the process.
Doctors have a lot on their plates, too. But as the adage goes, an ounce of prevention is worth a pound of cure. Better to spend a little time talking about the benefits of a colonoscopy than have a patient present with colon cancer symptoms when it's late in the game. Delays in diagnosis after a referral for colonoscopy not only leads to poor outcomes, it is one of the most common reasons for malpractice claims.
"We have to be vigilant," Dr. Driscoll said. "It's important to educate patients on the importance of a colonoscopy, but also explain what the test is like and how to schedule one."
Resources
Norton Healthcare offers many helpful resources for patients to have a colonoscopy, get follow-up care and more. An online colon cancer risk assessment takes only minutes to complete and gives the patient an idea of their risks for colon cancer.
Expanded hours, including Saturday appointments, offer patients more flexibility in scheduling.
Telehealth can be used for follow-up appointments.
Patients can request an appointment via MyNortonChart or by calling (502) 629-1234.
Refer a Patient
To refer a patient for a colonoscopy with Norton Healthcare,
use our online form.
---