Wendy Novak Diabetes Institute's goal is to become a national center for excellence while helping children and adults better manage their diabetes.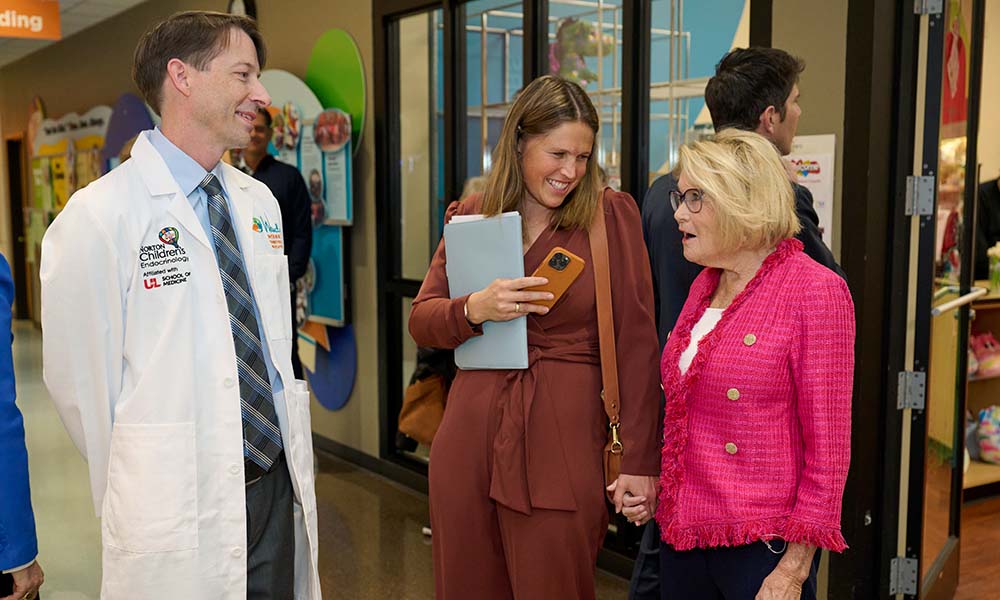 A $15 million gift from the Lift a Life Novak Family Foundation will expand and elevate the diabetes care we offer and help ease the burden of living with diabetes for children and adults across the region.
With the transformative gift, Norton Healthcare is expanding diabetes education, outreach, programming and research with the creation of Wendy Novak Diabetes Institute, which will provide the resources and personnel support for providers to deliver a level of care previously only available for children through the Wendy Novak Diabetes Center.
The institute's goal is to be recognized as a national center of excellence for providing the highest quality care and experience for patients and families living with diabetes.
Toward that end, the institute is recruiting specialized support staff, including nurses, social workers, patient navigators, coordinators, dietitians and diabetes educators. Recruiting these team members is critical because they are the key to helping patients live their lives with diabetes — from working with the providers to help manage insulin and medication to guidance on proper diet and exercise. In addition, they also help us coordinate support, including financial assistance, and allow us to provide mental and behavioral therapy to help patients manage the emotional and psychological burden of diabetes. This is particularly important to support our primary care providers who are so much a part of diabetes care for our adult population.
Additionally, we're adding outreach treatment locations across Kentucky and Southern Indiana and expanding diabetes specialty care into West Louisville and across the region. Pediatric outpatient diabetes care is provided at the Novak Center for Children's Health in downtown Louisville.
We are also expanding programming, including programs focused on transition in care, supporting young adults as they move through life's challenging stages; programs around family planning and maternal-fetal medicine so that patients with diabetes have all of the resources that they need to plan, carry and safely deliver healthy babies. We also will have specialty programs centered around caring for Type 2 diabetes during life stages, genetic forms of diabetes, and diabetes caused by medications or after a diagnosis of cancer.
Adding physicians, patient navigators and more
The new programming will enhance Norton Healthcare's multidisciplinary approach to care, allowing the diabetes care teams to better collaborate with providers in other specialties.
In the past two decades, Norton Children's Endocrinology, affiliated with the UofL School of Medicine, has grown from one physician to a team of 30 specialists supported by a highly skilled, compassionate staff, solely focused on improving quality of care and the patient and family experience.
With the creation of Wendy Novak Diabetes Institute, we will be hiring more medical professionals, particularly to support diabetes in our adult-care facilities, including doctors and nurse practitioners, licensed social workers, diabetes educators, exercise physiologists and patient navigators. The institute also will offer expanded fellowship programs and create additional endowed chairs.
Refer a patient
To refer a patient to Wendy Novak Diabetes Institute, visit Norton EpicLink and open an order for Pediatric Endocrinology/Diabetes Mellitus or Endocrinology.
We are already performing innovative research to improve the lives of children with diabetes. Wendy Novak Diabetes Institute provides a tremendous opportunity to expand this research to include adults. We plan to conduct basic, translational and clinical research that will give our patients access to cutting-edge therapies and hope for a cure in the future.
The $15 million gift from the Lift a Life Novak Family Foundation is part of a $60 million vision and represents the first step toward creating the top diabetes program in the country. The Norton Children's Hospital Foundation and Norton Healthcare Foundation have committed to raising $12 million.
Norton Children's Hospital is currently ranked 16th nationally by U.S. News & World Report for pediatric diabetes and endocrinology. Wendy Novak Diabetes Institute provides services at the hospital.
Adding special resources will help patients manage their diabetes, face every one of life's challenges and live long, healthy lives.
---