Research at Norton Children's Heart Institute is dedicated to understanding and managing diverse types of heart conditions affecting children and adults with congenital heart disease.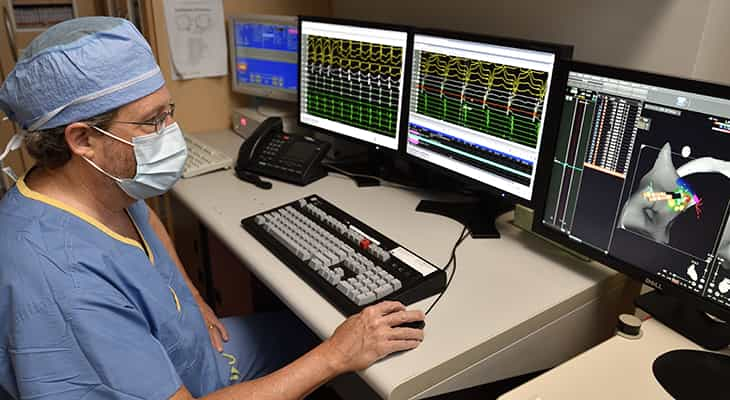 Research at Norton Children's Heart Institute, affiliated with the UofL School of Medicine, is dedicated to understanding and managing diverse types of heart conditions affecting children and adults with congenital heart disease. We accomplish this locally and through large multicenter collaborative efforts. What we find in these studies adds to a growing literature available to all health care providers. It also improves our own patient care by building our in-house expertise to enhance our ability to diagnose and treat our patients, even those with very rare or complex conditions.
No single institution has enough cases of rare but important conditions to study them effectively single-handedly. Norton Children's Heart Institute actively participates in many national and international registries and consortiums together with other leading pediatric heart centers. By pooling our patients' information with others we create statistically meaningful findings. At any given time, these studies involve multiple disciplines including cardiac critical care, cardiovascular surgery, fetal cardiology, adult congenital heart disease, interventional cardiac catheterization and cardiac electrophysiology.
Some of our recent studies focus on rare and potentially life-threatening conditions, including long QT syndrome (LQTS) and catecholaminergic polymorphic ventricular tachycardia (CPVT). Long QT syndrome affects about 1 in 2,000 children and is a potentially lethal condition that can first manifest suddenly, without warning, in an otherwise healthy-appearing child or young adult. The first sign of an associated life-threatening arrhythmia may be palpitations, syncope, cardiac arrest or sudden death. Important work over the last few decades has shown LQTS is not monolithic; there are many different subtypes. Some affected individuals are at higher risk than others, depending on subtypes (between families) and cofactors (within families). Importantly, some individuals with the same genetic variant appear to be at very low risk of a life-threatening event. Understanding that this condition is multilayered has permitted health care providers and families to lift many of the draconian restrictions previously imposed on these children and young adults, freeing up a number of them to be physically active, even participating in competitive sports, providing their specific condition and circumstances are well understood and properly managed.
Refer a patient
To refer a patient to Norton Children's Heart Institute, visit Norton EpicLink and choose EpicLink referral to Pediatric Cardiology.
An example of one of these LQTS subtypes is so-called Type 5, a comparatively rare form of a rare disease. Although most of these patients are expected to have a relatively benign clinical course, we encountered family members experiencing serious events, so we knew something else was going on. Looking more closely, we found that a few of these individuals have another genetic mutation similar to CPVT. This is an even rarer form of heart disease that also can be transmitted in families, and is also potentially quite lethal. We strongly suspect the CPVT genetic variant in these individuals is most likely the cause of their symptoms and events, and so clinical management has been adjusted accordingly. If we hadn't participated in the LQT5 study, and also numerous prior and ongoing projects involving CPVT, we may not have known to dig deeper, enhancing treatment for some patients and potentially relaxing restrictions on others. Furthermore, we anticipate future publications of this experience will affect how other providers approach the care of some of their patients.
We also have been involved in studies of a common form of supraventricular tachycardia, so-called AV node reentry tachycardia. Although this arrhythmia is not likely to be life-threatening, it can certainly be life-altering. Ultimate treatment involves catheter-based ablation of a specific component of heart tissue causing the rapid heartbeat. The challenge always has been finding the precise spot to ablate. It's a quest that can be a bit challenging in patients with structurally normal hearts, but is particularly so in those with concomitant congenital heart disease. We have and are participating in multicenter projects evaluating the optimal approach and outcomes for these patients, including implementation of a novel 3D mapping technique that ultimately may become standard of care.
In addition to participation in multicenter studies, Norton Children's Heart Institute is also involved in independent research. We are about to start on a yearlong pilot study of a specific form of liver disease that frequently occurs in patients who have undergone a Fontan operation to treat very complex single-ventricle anatomy. Our goal is to find the mechanism of the disease, how it progresses, and how we should be monitoring it, and what are the prognostic implications. Studies like this have the potential to deliver life-changing care to our patients.
Norton Children's Heart Institute is also beginning an in-house study at Norton Children's Hospital to evaluate optimal use of continuous bedside telemetry monitoring. These monitors are designed to sound an alarm when recordings of certain vital signs fall outside preselected parameters. Unfortunately, this frequently causes false or nonactionable alarms. Excessive monitor alarms add to patient and parental anxiety when they're already stuck in the hospital, sometimes for days or weeks. It also impairs their ability to rest and sleep. Providers, especially bedside nurses, can get alarm fatigue. The goal of this study is to find ways to reduce unnecessary alarms while still safely monitoring our inpatients.
At Norton Children's Heart Institute, we realize that ongoing research is vital not only to advance knowledge in our field but to give our patients the most advanced, personalized care possible.
Chris L. Johnsrude, M.D., M.S., is a pediatric cardiologist and electrophysiologist with Norton Children's Heart Institute and serves as director of the pediatric arrhythmia service at Norton Children's Hospital. He is an associate professor at the University of Louisville School of Medicine.
Joshua Kurtz, M.D., is a pediatric interventional cardiologist at Norton Children's Heart Institute and an assistant professor at the University of Louisville School of Medicine.
Read more
Recent Norton Children's Heart Institute publications
---