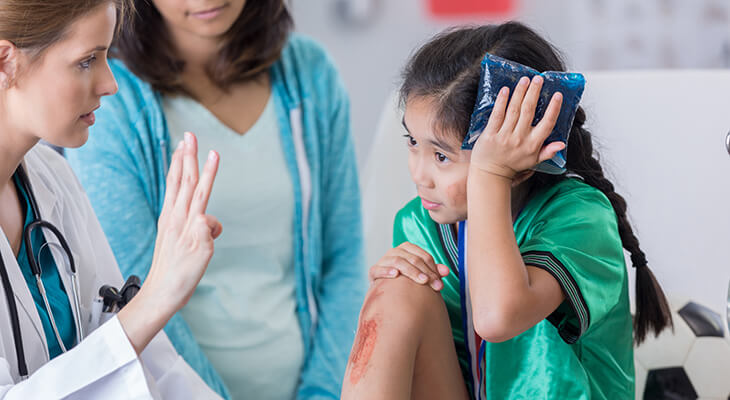 The Centers for Disease Control and Prevention (CDC) guidelines on treating children with concussions, or mild traumatic brain injury (mTBI), include 19 clinical recommendations covering diagnosis, prognosis, and management and treatment.
"This is the time of year when concussion numbers hit a peak," said Tad D. Seifert, M.D., neurologist and sports concussion physician with Norton Neurology Services, and director of Norton Neuroscience Institute Sports Neurology Center.
The CDC estimates nearly 4 million sports-related concussions occur every year in the United States, many of which involve kids and young teens. Children are more prone to concussions and typically display more severe and prolonged symptoms than adults and young college students.
The CDC highlighted five key recommendations from the pediatric mTBI guideline:
Do not routinely image patients to diagnose mTBI.
Use validated, age-appropriate symptom scales to diagnose mTBI.
Assess evidence-based risk factors for prolonged recovery.
Provide patients with instructions on return to activity customized to their symptoms.
Counsel patients to return gradually to non-sports activities after no more than two to three days of rest.
"With children, the neck muscles aren't as strong or developed as an adult's," Dr. Seifert said. "This increases the chance of sustaining a whiplash effect during a collision or sudden impact. That lack of strength often plays a significant role in suffering a concussion."
Concussions can lead to long-term health effects, such as memory loss, trouble concentrating, irritability, depression, dementia and other issues.
The CDC guidelines help standardize the care physicians across the country provide.
"It's very much a good thing that will ensure the way concussion medicine is practiced in Augusta, Maine, is the same in Phoenix, Arizona, so that all patients are receiving the same standard of care," Dr. Seifert said.
The Norton Sports Health team includes orthopedists, neurologists, physiatrists, primary care physicians, certified athletic trainers and physical therapists who work together to provide advanced care for athletes and individuals of all ages.
Refer a patient
To refer a patient, use our online referral form.
---