Orthopedic treatments include bracing and assistive devices, musculotendinous lengthenings or tenotomies, tendon transfers where an overactive tendon is transferred to a weak tendon, hip reconstructions to change the shape of bones to facilitate the best use of muscles, lever arm dysfunction osteotomies and spinal surgery.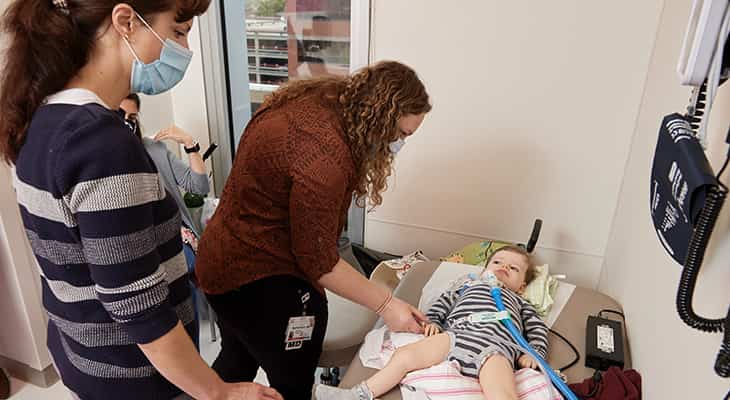 Duchenne muscular dystrophy (DMD) is an X-linked recessive disorder caused by deficiency of the dystrophin protein. In the absence of dystrophin, skeletal muscle fibers rupture and atrophy over time leading to progressive weakness, respiratory muscle weakness and cardiomyopathy. Loss of ambulation typically occurs early in the first decade of life without treatment.
Orthopedic treatments may include bracing and assistive devices, musculotendinous lengthenings or tenotomies, and spinal surgery.
Surgery has limited benefits for toe-walking and equinus contractures, which are the most commonly encountered orthopedic issues aside from scoliosis. Stretching orthotics at night allow a child to continue walking during the day without heavy orthotics, according to Star Nixon, M.D., a pediatric orthopedic surgeon at Norton Children's Orthopedics of Louisville, affiliated with the UofL School of Medicine. Other joint contractures are also better treated with splints, particularly at night, rather than surgery.
"The child is toe-walking because they're recruiting the strongest muscle available, which is their gastrocsoleous muscles. Putting a brace on them might completely decompensate their gait," Dr. Nixon said during a recent continuing medical education opportunity.
Surgery is an option for contractures only if the treatment goal is reasonable, according to Dr. Nixon, for example, if the surgery enables patients to continue wearing shoes comfortably.
"By releasing the contracture, you're not necessarily going to do anything but increase passive range of motion," Dr. Nixon said.
Scoliosis is common and progresses rapidly in children with DMD. As scoliosis progresses, pulmonary function often worsens. The curves also can cause pain and result in pressure sores. Bracing is not effective at minimizing progression.
Refer a patient
To refer a patient to Norton Children's Orthopedic Institute, visit Norton EpicLink and choose EpicLink referral to Pediatric Orthopedics
"There's not really a clear benefit of whether spinal fusion surgery improves respiratory function or not, but certainly keeping the spine from progressing to a 60-degree curve probably helps minimize worsening of function," Dr. Nixon said.
It also improves quality of life by improving sitting tolerance.
For many years, steroids were used to treat DMD. Steroids prolong ambulation and increase survival, but most children still end up in the mid-teen years at the latest with loss of ambulation.
Since 2016, the Food and Drug Administration has approved four gene-targeted therapies for muscular dystrophy called exon skipping therapies. The therapies target exons 45, 51 and 53 skippable mutations, which account for a large percentage of cases of DMD.
The gene therapies increase dystrophin production but only result in patients producing 1% to 5% of normal levels. Because these are new therapies, it's not yet clear how this increase will translate into clinically meaningful improvement.
A recent study of eteplirsen, the first exon skipping therapy approved for DMD, found 80% of patients remained ambulatory after a four-year period, compared with fewer than 30% in the historical controls.
Gene replacement therapy, rather than exon skipping therapy, is now being investigated as a treatment for DMD, with promising preliminary results. The first four patients who received this therapy saw a decrease in creatine kinase (CK), a marker of skeletal muscle breakdown and turnover, by 46% to 85%. They also had 75% of normal micro-dystrophin production and showed a small increase in the North Star Ambulatory Assessment, a motor function assessment for patients with DMD.
---