An estimated 20% to 90% of girls experience significant dysmenorrhea.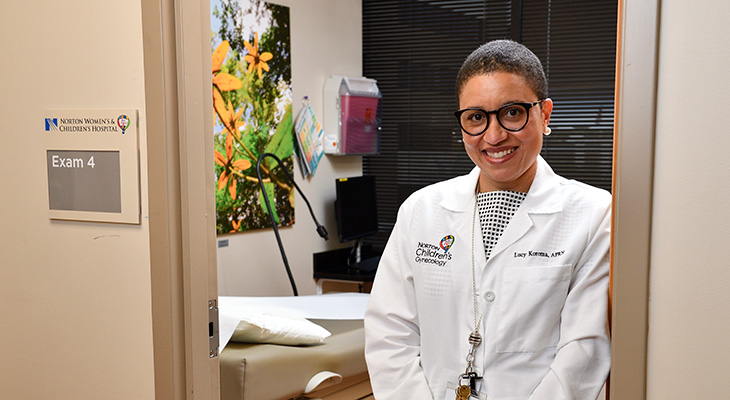 Primary dysmenorrhea, or painful periods, is defined as occurring just before or during menstruation in the absence of other diseases.
Usual onset of primary dysmenorrhea is most likely to present later in the menstrual years with the onset of ovulatory cycles. Individuals begin to experience crampy, lower abdominal pain each period. Cramping often starts one to two days premenstrual and continues one to four days into menses, with the first few days being the most painful, according to the recent continuing medical education (CME) presentation, "Pelvic Pain in the Adolescent Patient."
Lucy Koroma, APRN, nurse practitioner with Norton Children's Gynecology, affiliated with the UofL School of Medicine, was the CME presenter.
Secondary dysmenorrhea is painful menses in the presence of pathologic conditions of the pelvic organs such as endometriosis, salpingitis, obstipation, adhesions or obstructive congenital anomalies of the Mullerian system. Secondary dysmenorrhea is more likely to present early in the menstrual years, particularly at the beginning.
Signs of secondary dysmenorrhea include progressively worse pelvic pain; abnormal uterine bleeding, either heavy or irregular; and midcycle or acyclic pain. Severe pain immediately after menarche also is concerning, because some adolescents are anovulatory for several months to several years after starting their first period.
Dysmenorrhea is common in adolescents, with an estimated 5% to 15% reporting severe pain, causing them to miss activities such as school. An estimated 20% to 90% of girls experience significant dysmenorrhea.
Dysmenorrhea can be accompanied by nausea, vomiting, diarrhea, headaches, backaches, muscle cramps, thigh pain, sleep disturbances, fatigue, dizziness, anxiety or nervousness and, in rare cases, syncope.
Evaluation of adolescents with dysmenorrhea should include a medical, gynecological, menstrual, family and psychological history, in addition to previous treatments (including dose, duration of use, side effects and treatment response), according to Lucy's presentation. The etiology of dysmenorrhea is elevated prostaglandin F2 alpha and prostaglandin E2. Prostaglandin F2 alpha mediates pain sensation and stimulates smooth muscle contraction, while prostaglandin E2 potentiates platelet disaggregation and vasodilation.
Treatment of primary dysmenorrhea
For primary dysmenorrhea, nonsteroidal anti-inflammatory drugs (NSAIDs) are considered first-line treatment. Begin with loading regimen 48 hours before the onset of menses and continue at a regular dose until the period becomes light. If a patient fails in one class of NSAID, it is reasonable to switch to another, according to Lucy.
Suggested treatment regimens:
Ibuprofen is 800 milligrams initially, followed by 400 milligrams to 800 milligrams every six hours. Maximum daily dose 2400 milligrams; dosage is weight-based with 10 milligrams per kilogram.
Naproxen sodium is 440 milligrams to 550 milligrams initially, followed by 220 milligrams to 550 milligrams every 12 hours (depending upon formulation). Maximum daily dosage 1000 milligrams.
Mefenamic acid, 500 milligrams initially, followed by 250 milligrams every six hours.
Celecoxib 400 milligrams initially, followed by 200 milligrams every 12 hours
If NSAIDs are contraindicated, suggested treatment regimens are:
Regular-strength acetaminophen 650 milligrams every four to six hours; maximum dose 4,000 milligrams.
Extra-strength acetaminophen 1,000 milligrams every six hours; maximum dose 4,000 milligrams.
Pain relief is seen in 67% to 87% of patients on NSAIDs alone. Patients with severe pain should receive a loading dose, according to Lucy's presentation. Use NSAIDs cautiously if patient has renal and hepatic insufficiency. NSAIDs may be contraindicated with coexisting bleeding disorders.
If NSAIDs alone are ineffective, dual therapy of NSAIDs and an oral contraceptive pill provides relief in more than 95% of patients.
"When talking about hormonal treatments, I really try to emphasize to parents the noncontraceptive benefits of birth control," Lucy said.
Refer a patient
To refer a patient to Norton Children's Gynecology, visit Norton EpicLink and choose EpicLink referral to Pediatric Gynecology.
---
Both cyclic and continuous oral hormonal regimens can work to treat dysmenorrhea. Continuous regimens may result in more rapid onset of pain reduction. If the patient has a contraindication to estrogen, continuous norethisterone acetate is equally as effective as cyclic combined hormonal contraceptive.
"The treatment goal for primary dysmenorrhea is to ensure adolescents are able to effectively manage their symptoms and continue everyday activities with minimal disruptions," Lucy said.
Adolescents who don't respond to traditional therapies should be checked for endometriosis, a renal anomaly and congenital anomalies (spine, cardiac or gastrointestinal). If a teen is sexually active and has endometriosis, intercourse can be painful. There is an increased incidence of secondary dysmenorrhea if a first-degree family member has endometriosis. The most common cause of secondary dysmenorrhea is endometriosis.
"If the patient goes three to six months maximizing medical therapy and there's no improvement in pain, it's definitely time to refer to a pediatric and adolescent gynecologist for a possible laparoscopy to exclude endometriosis or other organic causes," Lucy said.
Complementary and alternative therapies for dysmenorrhea include exercise, smoking cessation, diet modification, stress reduction, heat therapy and pelvic floor physical therapy. Ginger 750 milligrams to 2,000 milligrams can be taken the first three days of menses to alleviate pain. Cognitive behavioral therapy can work to address pain, and for symptom reduction and stress management, according to Lucy.
Treatment ofdysmenorrhea is important as period pain should not disadvantage adolescents from their peers. The take home message, according to Lucy, is there are treatments both over the counter and prescription to control period pain and keep adolescents functioning.
---