Erector spinae plane block can allow us to lower the overall pain threshold, reduce narcotics and extubate sooner.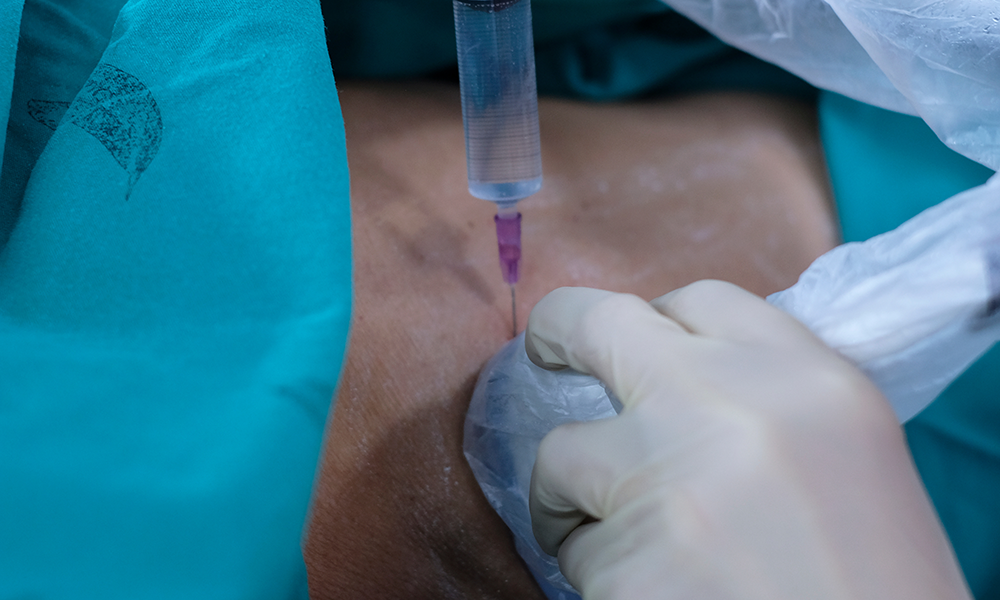 Using an anesthesia block such as erector spinae plane block in some pediatric cardiac surgeries has allowed us to quicken patient recovery, shorten stays in the cardiac intensive care unit (CICU) and extubate sooner.
By blocking the afferent neuronal impulses in surgeries involving a midline sternotomy, erector spinae plane blocks reduce the body's sensation of pain and the downstream stress response to the surgery. The result is decreased opioid requirements in children during the first 24 hours after cardiac surgery.
With erector spinae plane blocks, we're blocking the nerves so they cannot communicate pain. We're essentially doing the same thing as a dentist numbing a nerve around a tooth, only for the midline chest.
Fewer narcotics, same pain control, earlier extubation
If we can lower the overall pain threshold, we can give fewer narcotics while achieving the same degree of pain control. This means we can extubate sooner.  Removing the tube sooner after surgery typically means fewer days in the CICU, fewer comorbidities and better outcomes.
Narcotics cause respiratory depression, which can lead to respiratory compromise after extubation. If we can raise the patient's overall pain threshold and reduce the need for narcotics, there is less risk they will need to be reintubated.
The first successful use of the erector spinae block was reported in 2016 to manage thoracic neuropathic pain. The use of block has increased since then for postoperative pain management. It has been used in procedures ranging from ventral hernia repairs to lumbar fusions.
Ultrasound guided erector spinae plane block eases administration
At Norton Children's Heart Institute, affiliated with the UofL School of Medicine, we've seen firsthand how effective and safe the block is. Erector spinae blocks are relatively easy to administer since they are ultrasound guided, and we can accurately direct the needle with great precision.
We've been doing the erector spinae pain block since June 2021. Anecdotally, it has worked very well. Talk to intensive care unit physicians and nurses, and they report that patients who have received this block do better. We're reviewing the data now to quantify the benefits.
Refer a patient
To refer a patient to Norton Children's Heart Institute, visit Norton EpicLink and open an order for Pediatric Cardiology.
Studies by others have shown how effective this block can be for children undergoing heart surgery. A randomized controlled trial published this year in Anesthesiology and Pain Medicine concluded that ultrasound-guided erector spinae pain block can be used to reduce perioperative opioid consumption and postoperative pain scores in pediatric patients undergoing cardiac surgery through a sternotomy.
Certainly, that's what we've seen. We've used the block in a wide variety of cases, including atrial septal defects, ventricular septal defects, tetralogy of Fallot, bidirectional Glenn procedures and some shunts.
Each patient is evaluated on whether they are a good candidate for the block. An erector spinae plane block is not appropriate for children who are hemodynamically unstable or need to be intubated for more than 24 hours.
For those children who are able to get the block, the results appear to be outstanding. This is a win for pain control, a win for earlier extubation and a win for patients and their families.
Ryan D. Swain, M.D., is a pediatric anesthesiologist who practices at Norton Children's Hospital.
---