Generous support has allowed the Wendy Novak Diabetes Institute to become Kentucky's largest and most comprehensive pediatric diabetes center.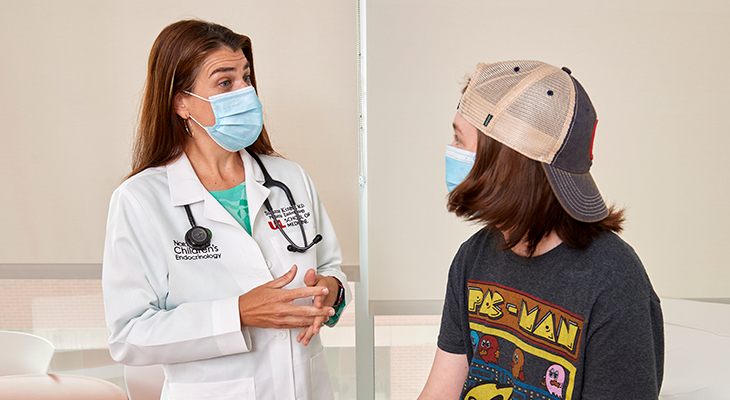 The clinical team of 30, including nine board-certified pediatric endocrinologists and seven nurse practitioners, receives approximately 4,000 hospital and outpatient visits each year. More than 1,400 patients with diabetes seek the expertise of Norton Children's Endocrinology each year.
Patients include children up to age 21 with general endocrine conditions and adults up to age 26 with diabetes.
Frequently treated conditions:
Type 1 and Type 2 diabetes
Adrenal gland disorders
Metabolic bone conditions
Early and delayed puberty
Disorders of sexual differentiation
Growth disorders
Thyroid abnormalities, including hyperthyroidism (Graves' disease) and hypothyroidism
Primary and secondary osteoporosis
Pituitary gland disorders
Prader-Willi syndrome
Turner syndrome
In addition to providing outpatient, telehealth and inpatient services, the team is actively involved in training medical students, residents and pediatric endocrinology fellows, as well as participating in innovative translational and clinical research.
In 2013, The Lift a Life Novak Family Foundation, Norton Children's Hospital Foundation and the University of Louisville partnered to form the Wendy Novak Diabetes Institute. The center provides state-of-the-art, compassionate care; personalized treatment plans; and family education programs.
"With amazing support from the community, we've been able to stay on the cutting edge to provide the very best for the patients and families we serve," said Kupper Wintergerst, M.D., pediatric endocrinologist with Norton Children's Endocrinology and director, Wendy Novak Diabetes Institute.
Dr. Wintergerst is also chief of the Division of Pediatric Endocrinology at the University of Louisville School of Medicine.
The Norton Children's Endocrinology team includes diabetes educators, nurses, registered dietitians, psychologists, social workers, child life specialists and exercise physiologists.
Programs
Patient and Family Program
Comprehensive support and education to patients and their families after being diagnosed with diabetes.
Christensen Family Sports & Activity Program
Improving the health, safety and athletic performance of active children and young adults with diabetes.
Nutrition Kitchen
A professional-grade kitchen for nutritional counseling and in-person and online classes offered by registered dietitians.
Diabetes Adherence Resource Team (DART) Clinic
A multidisciplinary team for children with uncontrolled diabetes.
Pediatric and Adolescent Gender Education (PAGE) Program
Gender-affirming care of transgender and gender diverse patients
Endocrine Hematology/Oncology Program
For survivors of childhood cancer
Weight and wellness program
Lipid disorders and genetic endocrine disorders clinics (coming soon)
Refer a patient
As part of our commitment to better access to our pediatric specialists, when you make a referral to Norton Children's Endocrinology, the patient will have an encounter within seven business days.
---