The Fontan procedure allows a single ventricle to do the work of two, but doesn't correct for complications that come with the new circulation path.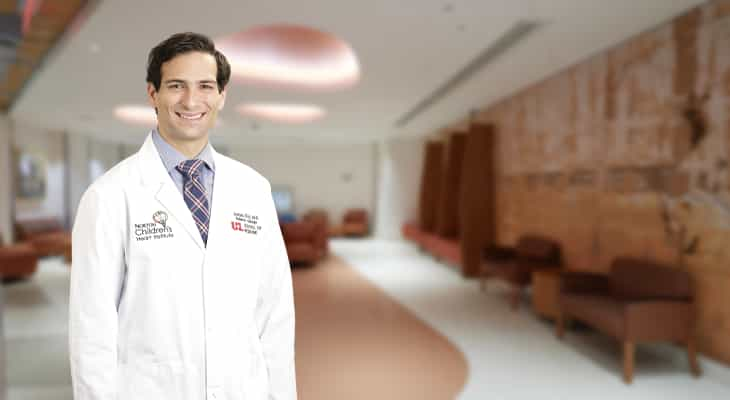 Norton Children's Heart Institute, affiliated with the UofL School of Medicine, has opened its Fontan Clinic to provide follow-up care to children and adults who have undergone the third of a three-surgery series to treat a congenital single ventricle anomaly.
The clinic is a passion for Joshua Kurtz, M.D., a pediatric interventional cardiologist at Norton Children's Heart Institute. He is currently researching the physiology that leads to liver disease in some patients with Fontan circulation.
"The Fontan procedure is a lifesaving surgery, but the child still does not have a sub-pulmonary ventricle to pump blood through the lungs. This puts a strain on the systemic venous system, which the patients rely on for passive pulmonary blood flow," Dr. Kurtz said.
"With a single ventricle, kids are at risk of sudden death, heart failure, thromboembolism and liver disease starting a few years after surgery and into adulthood," he said.
RELATED: Norton Children's Heart Institute earns accreditation from the Adult Congenital Heart Association
Refer a patient
Use Norton EpicLink to quickly and easily refer a patient to Norton Children's Heart Institute.
The Norton Children's Heart Institute Fontan Clinic provides regular follow-up and monitoring for these patients to help spot any emerging issue in the liver, kidneys, heart, or lungs early and treat it sooner, when more options are often available.
The clinic works in conjunction with the Norton Children's Heart Institute's adult congenital heart disease program to provide sophisticated care to patients born with heart conditions.
The Fontan procedure and living with a single ventricle
The Fontan procedure reroutes the blood circulation for children born with single ventricle anomalies — either the right or left ventricle is unable to pump blood effectively.
Some children will eventually need a heart transplant, but many are able to lead fulfilling lives after undergoing the Fontan procedure.
With a single ventricle doing the work of two, pumping blood out to the body and then through the lungs — skipping the nonfunctioning second ventricle — patients have an increased risk of numerous conditions as they grow up and into adulthood, including:
Arrhythmias
Fontan-associated Liver disease
Protein-losing enteropathy
Plastic bronchitis
Thromboembolism
Ventricular dysfunction
Osteoporosis
The specialists in the Fontan Clinic help patients who've had the procedure work through the complications of living with a single ventricle and maintain their quality of life.
Monitoring includes:
Hemodynamics
Liver, lung, and renal functions
Musculoskeletal endurance
Nutrition
Obstructive sleep apnea
---