The Food and Drug Administration has approved hybrid ablation for patients with long-standing persistent A-fib.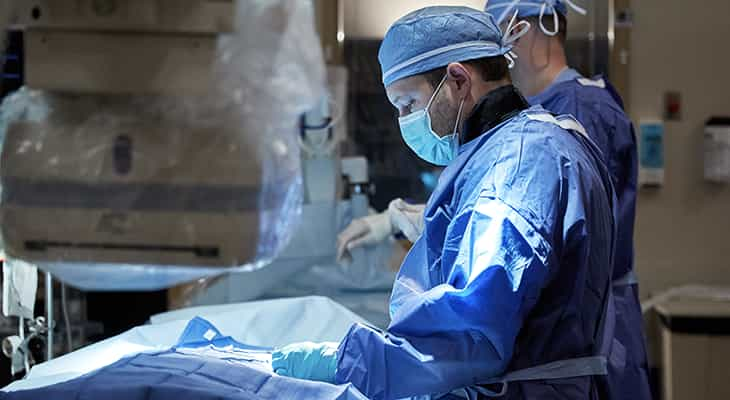 The Food & Drug Administration (FDA) has approved hybrid ablation as a treatment for long-standing persistent atrial fibrillation (A-fib), the most severe form of the condition affecting about 45% of A-fib patients.
Hybrid ablation treats A-fib in procedures that combine endocardial radiofrequency ablation with epicardial ablation. The ablations create lesions that interrupt the faulty electrical signals that cause A-fib.
Norton Heart & Vascular Institute has been performing hybrid ablations for paroxysmal A-fib (occasional episodes that last up to seven days) and persistent A-fib (episodes that last beyond seven days for as long as a year) since 2017.
The cardiac electrophysiologists and cardiothoracic surgeons at Norton Heart & Vascular Institute have been performing hybrid ablations longer than any other provider in the Louisville and Southern Indiana area.
RELATED: American Heart Association sets standards for heart attack care
Norton Heart & Vascular Institute's experience with hybrid ablation ranks among the top 10 in the country in terms of volume, according to AtriCure the maker of the EPi-Sense ablation device that allows for the minimally invasive epicardial portion of the therapy.
Providers at Norton Heart & Vascular Institute contributed data on the procedure's outcomes to the FDA as part of the most recent approval process.
Refer a patient
Use Norton EpicLink to quickly and easily refer a patient to Norton Heart & Vascular Institute.
The FDA's approval for use of the procedure in long-standing persistent A-fib cases means those who've had constant symptoms for more than a year are now candidates for this potentially life-changing procedure.
HYBRID ABLATION CASE STUDY: Left ventricular function normalized, medication reduced
A-fib typically starts at the base of the pulmonary veins, on the posterior heart wall or in the left atrial appendage, and can cause symptoms such as palpitations, a fluttering feeling in the chest and arrhythmia.
Long-standing persistent A-fib can cause shortness of breath, dizziness, weakness, fatigue, low blood pressure and pain or pressure in the chest.
RELATED: Hybrid ablation for persistent atrial fibrillation
A-fib increases risk of stroke, heart failure, dementia, chronic fatigue, decreased activity level and quality of life decline.
The first step in a hybrid ablation is a minimally invasive pericardioscopic epicardial ablation that applies radiofrequency energy to the posterior left atrial wall, distal from the esophagus. The aim is to create durable and contiguous lesions while reducing risk of injury to the adjacent heart structures.
The EPi-Sense device is cooled on the back side with saline solution to prevent injury to healthy tissue. On the underside, vacuum pressure pulls heart tissue into the radiofrequency coil while perfusion conducts energy downward into tissue while circulating blood absorbs excess heat.
The second stage is an endocardial ablation that uses mapping and ablation to target the regions that need additional treatment and any areas impeded by pericardial reflections during the epicardial part of the treatment. This part of the procedure is a conventional cardiac ablation achieved with a catheter.
A study of 153 patients at 27 centers found that compared with endocardial ablation alone:
Patients were twice as likely to no longer need A-fib medication.
After one year patients spent 90% less time in A-fib.
Reviewed by Kent Morris, M.D., cardiologist and electrophysiologist with Norton Heart & Vascular Institute.
---