To reduce the chance of post-surgical heart block, the Norton Children's Heart Institute team performed intraoperative electrophysiology mapping.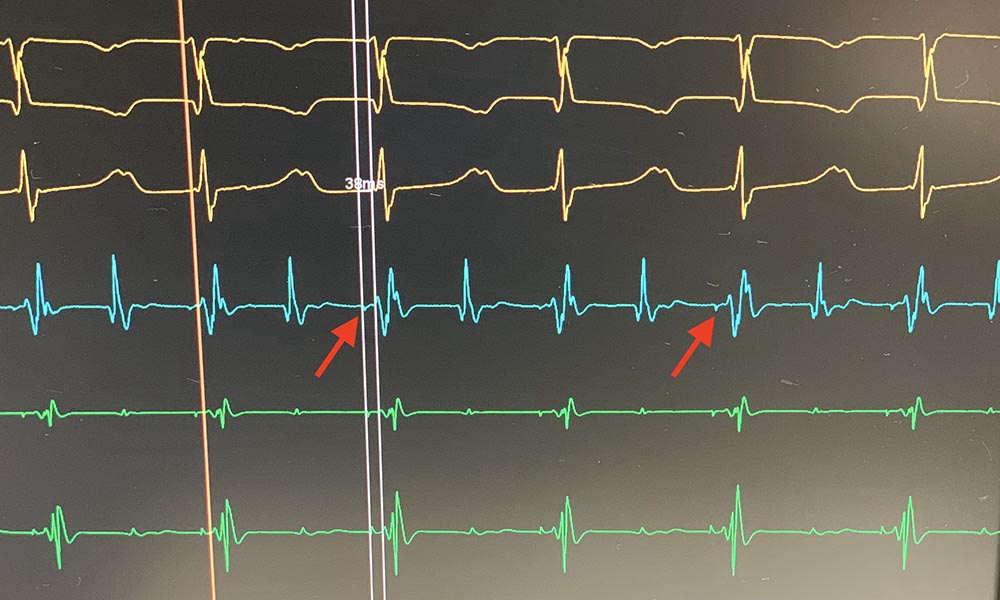 The patient
A 4-year-old girl presented with congenital heart disease consisting of partial atrioventricular canal defect. Surgical repair was necessary.
The challenge
Injury to the cardiac conduction system during cardiac surgery may result in complete heart block in 25% of patients with the most complex congenital heart defects. The injury interrupts the electrical signals transmitted from the top to the bottom chambers of the heart. Most patients with post-surgical complete heart block will require implantation of a permanent pacemaker, with its associated complications and comorbidities.
The physicians
The solution
To reduce the chance of post-surgical heart block, we performed intraoperative electrophysiology mapping to approximate the location of tissue that makes up the intracardiac conduction system. After the heart was exposed by Dr. Kozik, the patient was cooled, and cardiac bypass was initiated, as is customary for most cases of complex cardiac surgery. Necessary steps were taken to ensure that the heart was free of air. While the patient was under bypass and in a normal heart rhythm, an electrophysiology catheter was placed by Dr. Kozik on the surface of the heart. The electrophysiology team evaluated signals for the presence of the bundle of His — a marker of the cardiac conduction system that's invisible to the naked eye. With the approximate location of the tissue identified, Dr. Kozik noted it and marked it. Dr. Kozik proceeded with the rest of the surgical procedure.
The result
The patient had an uneventful cardiac surgery, and the postoperative heart rhythm was normal. There was no evidence of heart block or injury to the cardiac conduction system. She was discharged home five days later.
Refer a patient
To refer a patient to Norton Children's Heart Institute, visit Norton EpicLink and open an order for Pediatric Cardiology.
---
---