Norton Healthcare serves the Latinx community with new facility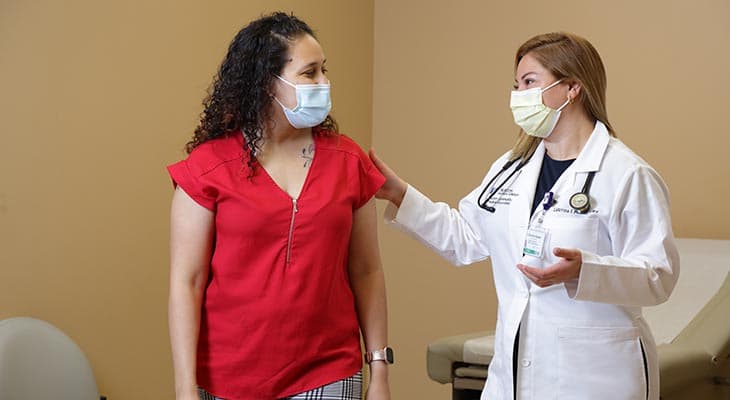 Norton Community Medical Associates – La Clínica Preston, Norton Healthcare's first 100% bilingual practice, is now open in Okolona. The facility features staff and providers who understand the unique concerns of Louisville's Latinx community and families.
Though translation services have always been available at Norton Healthcare facilities, an office equipped with trusted employees who bridge language and culture gaps is a way to improve care for the growing Latinx community.
"We are members of the Louisville Latinx community ourselves, so we really understand the challenges and pressures our patients face around the language barrier," said Juan G. Polo, M.D., an internal medicine physician, who sees patients in the new office. "Anxiety and depression are common in this population, but we feel that by establishing trust through meaningful, culturally sensitive connections, we can better serve these patients."
Liduvina Portillo, APRN, is a nurse practitioner and family medicine provider at La Clínica Preston. She hopes to better connect with patients on a cultural level as someone who understands the stresses that can be present, whether regarding legal status or navigating barriers to getting primary and specialty care.
"By our opening a practice based in the Hispanic community, patients will be more comfortable in seeking out and establishing care with a trusted provider who understands their culture and language," Liduvina said. "Now they can truly focus on their overall health and well-being. The ultimate goal is to improve health outcomes."
The clinic sees patients 16 years and older. For patients between age 12 and 15, the clinic can offer birth control, depression/anxiety medication, sports physicals, and acute conditions.
Other resources for care
Spanish-speaking representatives at the Norton Healthcare Access Center can help connect patients with a primary care provider or vaccine clinic. Bilingual providers are available at several pediatric and adult primary care offices. Contact us at NortonHealthcare.com/PrimaryCare or call (502) 861-4645 to reach a representative who speaks Spanish.
Norton Healthcare Mobile Prevention Centers offer health screenings in convenient community locations, with staff members who speak Spanish. Schedule an appointment at NortonScreenings.com
Now open
Norton Community Medical Associates – La Clínica Preston is located at 7926 Preston Highway, Suite 103, Louisville, Kentucky.
---