Full-body imaging with 50% to 85% less radiation than traditional X-ray and 95% less than CT. Find out how your patients can benefit from low-dose imaging.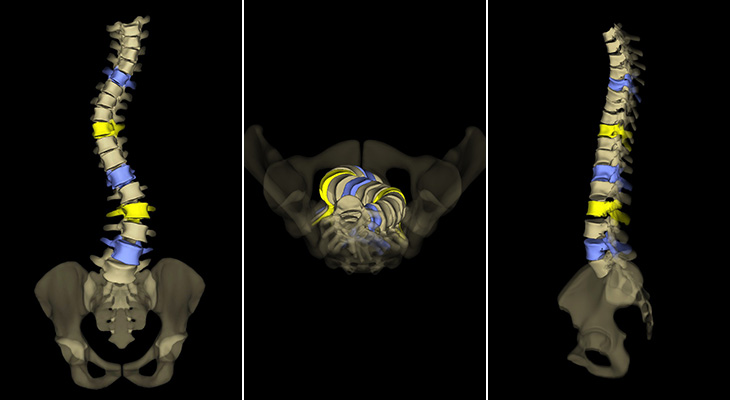 Children with scoliosis or other conditions that require frequent imaging and the accompanying radiation risks now have a low-dose imaging option.
The EOS Imaging full-body imaging system delivers 50% to 85% less radiation than traditional X-ray and 95% less radiation than CT. Radiation from EOS technology is equivalent to a week's worth of natural radiation.
Installed earlier this year at Norton Healthcare Pavilion in downtown Louisville, the EOS low-dose imaging system is patient-friendly in other ways. The machine is adjustable for height, and patients can stand, sit, bend, or squat for the scan, depending on what part of the body is being evaluated.
Refer a patient
Use EpicLINK to refer a scoliosis patient to Norton Children's Orthopedics of Louisville or Norton Leatherman Spine.
Also, a full-body scan takes no more than 15 seconds for a child, with a total exam time of only four minutes for an image of the entire spine.
The EOS system simultaneously acquires frontal and lateral X-ray images. EOS can be used for conditions affecting the spine, hip and knee, and the EOS Imaging can help with diagnosis, planning and, postoperative assessments, or as part of follow-up care.
3D images aid surgical planning with low-dose imaging
Because EOS is capable of producing 3D images, the system can provide details about the spine not available with X-ray — such as torsion, anteversion, and rotation — making it useful for planning surgeries to address complex spinal deformities such as scoliosis, which need to be corrected in all three dimensions.
The EOS system also offers a full-skeletal view, meaning it can be used to evaluate a patient's full skeleton for a better understanding of joint conditions, alignment and posture. Sagittal alignment can be assessed only with a full-body, weight-bearing image, which EOS provides.
The speed of the EOS system does not mean the images are lower resolution than traditional X-rays or CT scans. The high-resolution, high-contrast image is capable of producing 65,000 shades of gray. Also, EOS images are true to size and do not need to be stitched together.
The EOS system lowers the radiation dose without sacrificing image quality by collimating the radiation in parallel rays that travel a very narrow path. Skilled radiology technicians can minimize radiation exposure further by adjusting precisely for the size and weight of a child.
Reducing long-term cancer risks of frequent imaging
Lowering radiation dosage as much as possible for children and adolescents increasingly has become a priority as the long-term cancer risks from frequent imaging are better understood.
A study in the New England Journal of Medicine estimated as many as 2% of cancer cases in the United States were connected to the increased use of CT scans.
And a meta-analysis of cancer cases and mortality among children and adolescents with scoliosis published in 2020 — based on more than 35,000 participants and more than 20 years' observation — found repeated radiographs resulted in elevated rates of cancer, breast cancer, and cancer and mortality, compared with the general population.
The breast cancer risk associated with imaging during childhood and adolescence is of particular concern. A retrospective study found women with scoliosis who were imaged frequently had twice the incidence of breast cancer.
Because of the cancer risks, efforts to reduce radiation exposure have included special X-ray films, screens and lead or metal breast "shields."
---