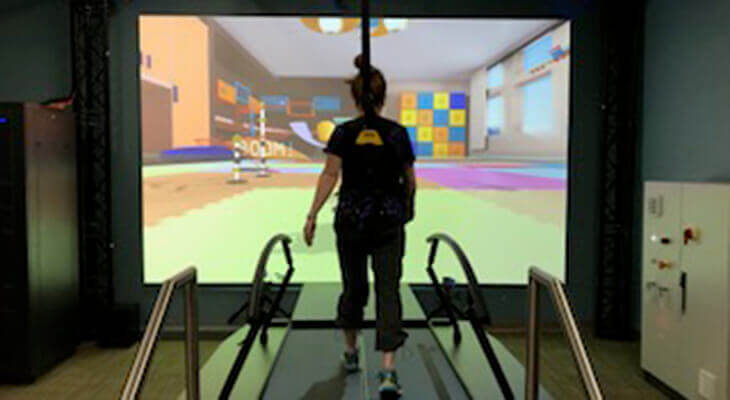 The new Norton Mobility Lab, supported by the Children's Hospital Foundation, provides new technology that takes mobility or gait therapy to a whole new level with virtual reality simulations. It's the only technology of its kind in Kentucky.
With the new technology, therapists can create a number of different interactive simulations, such as walking in a forest, riding on a boat or flying a kite. A massive projection screen and treadmill with overhead suspension capabilities work together to create the simulations. Wearable sensors and cameras track the patient's movements so physicians can assess progress and adjust therapies.
One such patient who is having success with the new technology in the Norton Mobility Lab is Caleb McKenzie, a patient of Laura K. Jacks, M.D., pediatric orthopedic surgeon with Norton Children's Orthopedics of Louisville.
McKenzie, who has cerebral palsy and is now 4 years old, has been getting physical therapy since he was about 9 months old, to help with his mobility including walking.
"To keep his attention on something and do it over and over again, four days a week, the same thing every time is going to get boring," Dr. Jacks said.
A simulation designed just for Caleb helps with his biggest struggle — lifting his knees in a marching position.
"The therapists came up with a great program that has cars coming in an intersection and in order to allow a car to pull through, he has to lift his feet to let the car come under his foot," Dr. Jacks said.
"Over time, in another few years, I think he will have a lot less bracing, and he will be more independent, be able to walk long distances and hopefully play some sports — the sky is the limit," Dr. Jacks said.
Refer a patient
To refer a patient to the Norton Mobility Lab, click here for the online referral form, or call the lab directly at (502) 559-1862.
---