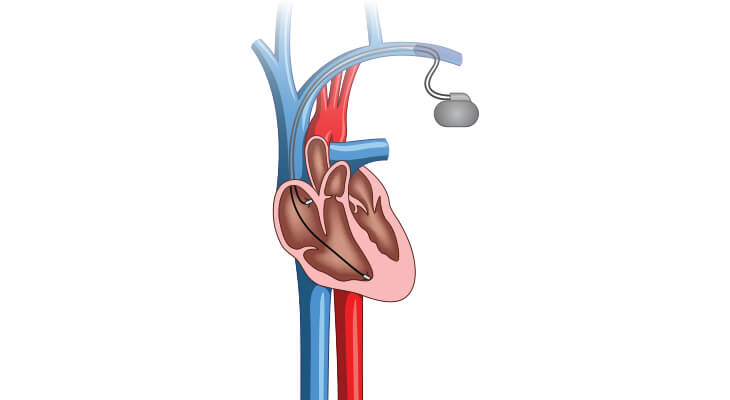 Identifying A-fib and starting anticoagulation greatly decreases the risk of recurrent stroke, thereby decreasing the risk of further disability or even death. 
Cardiology and neurology specialists at Norton Healthcare knew there was a growing body of evidence suggesting that the underlying cause for many cryptogenic strokes is atrial fibrillation (A-fib). However, many A-fib patients do not receive additional cardiac monitoring, leaving them at risk for a recurrent stroke.
To address this issue, a new multidisciplinary cryptogenic stroke pathway was developed by Lynn Hundley, APRN, director, Clinical Effectiveness and Stroke Care; Kent Morris, M.D., electrophysiologist, Norton Heart Specialists; and Nadeem A. Talpur, M.D., stroke neurologist, Norton Neurology Services.
It includes a collaboration of neurologists, electrophysiologists, cardiologists and other stroke care health professionals and incorporates long-term monitoring with an implantable cardiac monitor.
A-FIB AND LONG-TERM CARDIAC MONITORING
Diagnosing A-fib is challenging, as paroxysmal A-fib episodes are unpredictable, intermittent, and in many cases do not  cause symptoms. Historically, a stroke exam has included electrocardiogram, hospital telemetry and short-term event or Holter monitoring as the standard of care for A-fib detection, with 30-day or longer monitoring only occasionally employed.
However, a significant body of evidence supports longer-term monitoring for A-fib with an implantable cardiac monitor in this patient group as a best practice.
CRYPTOGENIC STROKE CARE PATHWAY CREATED
In 2013, Norton Neuroscience Institute began a multidisciplinary collaboration to build a cryptogenic stroke care pathway. The team initially attended a multidisciplinary stroke conference, during which it outlined an initial pathway by building on existing stroke protocols. Then, the referral process and monitoring protocol  were determined. As part of this process, after a stroke is deemed cryptogenic by the neurology team, a cardiologist is consulted for transesophageal echocardiography, if appropriate, and for an implantable cardiac monitor. This is then completed prior to discharge when possible.
Since collaboration began, the program has seen tremendous growth: 635 patients have received a long-term implantable cardiac monitor. Of these, A-fib was detected in 141 patients for a detection rate of 22 percent, which is double that of the CRYSTAL A-fib study. The median time to detection currently is 75 days, reinforcing the concept that even 30-day monitors may not be adequate to find and treat A-fib. Following A-fib detection, all appropriate patients are started on oral anticoagulation treatment with the agent identified as optimal for them.
CONCLUSION
Stroke survivors who leave the hospital with the cause of their stroke undetermined are at great risk. The cryptogenic stroke pathway team was obliged to find the cause and provide secondary prevention methods for these patients. Identifying A-fib and starting anticoagulation greatly decreases the risk of recurrent stroke, thereby decreasing the risk of further disability or even death. New, long-term monitoring technology has provided us with a tangible way to make a change in secondary stroke prevention.
It is vital that neurologists and cardiologists form relationships, communicate and collaborate to manage, diagnose and treat stroke patients. Forming working relationships through a cryptogenic stroke pathway allows these providers to begin working together to help reduce recurrent strokes and improve outcomes for stroke patients.
"As clinicians, it is critically important to understand the root cause of cryptogenic strokes to prevent recurrence, as secondary strokes have a higher rate of death and disability," Hundley said. "We're thrilled to be able to offer this pathway for patients of Norton Healthcare."
The full study appeared in Cardiac Rhythm News. To read the article, visit CardiacRhythmNews.com.
Cryptogenic Stroke Care Pathway
For more information on Norton Healthcare's cryptogenic stroke care pathway
---