Before delivery, we start planning the road ahead for families expecting babies with hypoplastic left heart syndrome and other congenital heart defects.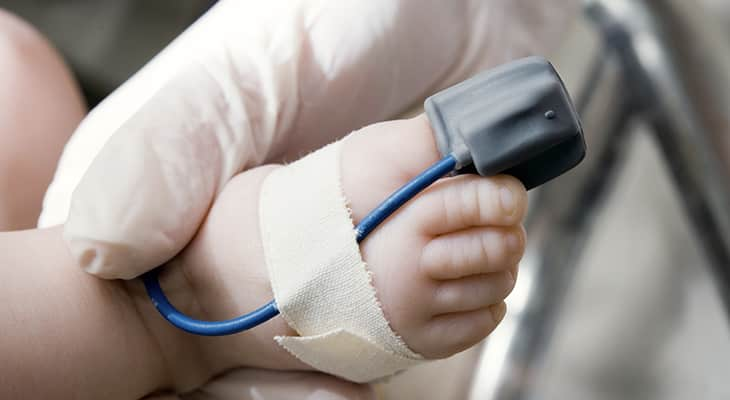 For families expecting babies with hypoplastic left heart syndrome and other congenital heart defects and heart conditions, planning the road ahead at Norton Children's Heart Institute, affiliated with the UofL School of Medicine, starts before delivery.
As part of our Fetal Cardiology Program, we hold a care plan meeting with the family prior to the baby's birth. Depending on their situation, expectant parents might meet with a Norton Children's Maternal-Fetal Medicine physician, a cardiothoracic surgeon, a fetal cardiologist, neonatal intensive care unit physician, cardiac intensive care unit specialist, a member of the behavioral and mental health team, palliative care support staff and a social worker.
In single-ventricle heart defect cases, parents meet with the care plan team and learn about the three operations typically needed — the Norwood, Glenn and Fontan procedures — and they receive a binder with all the information they'll need.
Prior to delivery, each case is reviewed by the fetal board. After delivery, a heart board meets weekly to discuss not only single-ventricle cases, but also conditions such as tetralogy of Fallot that require pulmonary artery banding or shunts.
When patients go home
Before the infant leaves the hospital, a discharge planner ensures caregivers have everything they need to handle the transition to home care.
Once they're home, parents are not alone. During the interstage period between surgeries, we monitor these infants closely. Parents and caregivers can chart data points like weight, heart rate and blood oxygen levels using an app on their phones or a specially equipped iPad we give them. We get real-time data and can catch issues early — before things get serious.
We are also available 24/7. Parents can call or text at any time of the day or night and speak with one of our nurses. The interstage period is a precarious time for these children, and having a nurse available anytime brings enormous peace of mind to families.
More than that, monitoring these infants so closely during the interstage period has helped bring the mortality rate for our single-ventricle patients down well below the national average.
Dietitian Laura Dean, RDN, CSP, L.D., joined the team last year and has been a tremendous help making sure our babies gain weight. Babies who gain weight typically have better outcomes.
Refer a patient
To refer a patient to Norton Children's Heart Institute, visit Norton EpicLink and choose EpicLink referral to Pediatric Cardiology.
Neurodevelopment is also important. Babies born with congenital heart disease are at risk for delay. Before they leave the hospital, we set them up with therapy.
Follow-up care
In addition to the at-home monitoring, children with single ventricles also have outpatient appointments every two weeks. We try to ease the burden on families by making sure they can see all the specialists they need in a single day, so they don't have to make multiple trips.
For patients who are from Southern Indiana or parts of Kentucky outside of Louisville, we coordinate care with outreach clinics for the follow-up visits, which are scheduled every two weeks. For example, a single-ventricle patient in Bowling Green, Kentucky, can go to a clinic there once a month and come to Louisville once a month. This eases the burden on families.
For single-ventricle patients outside of Louisville, nurse clinician Terri Wells, R.N., also has been working with local hospitals and EMS to educate them on emergency care of single-ventricle babies. For example, a single-ventricle baby with a blood oxygen saturation of 70% does not need a breathing tube.
Norton Children's Heart Institute is also part of the National Pediatric Cardiology Quality Improvement Collaborative (NPC-QIC) database. We obtain consent on patients and start entering data before the baby is born. The goal is to add to the body of knowledge about these children and improve outcomes on a national level.
Throughout the patient's journey, we coordinate care with families and among specialists to strive for the best outcome possible.
---