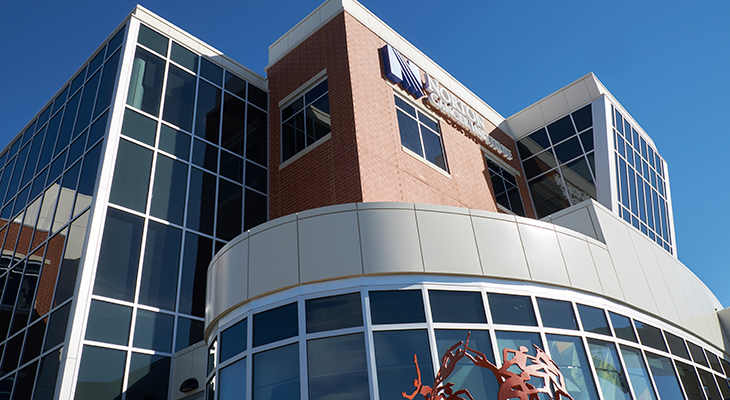 With the help of generous donors, Norton Healthcare has been adding new facilities and technology to offer more sophisticated health care to the Louisville area.
Since the 2014 opening of Norton Women's & Children's Hospital, Norton Healthcare has continued renovating facilities and adding new buildings.
Recent projects include doubling the size of Norton Brownsboro Hospital; constructing a new Norton Cancer Institute building and a second medical office facility on the Norton Brownsboro campus; and launching major renovations at Norton Audubon and Norton Children's hospitals.
"All the construction underway today began with a comprehensive multiyear facility master plan," said David Boome, system director for construction, Norton Healthcare. "For example, the Norton Audubon Hospital design work began in 2014, while planning for the Norton Children's Hospital project began in 2012."
Highlights of the current projects illustrate how effectively they have been conceived and managed:
Norton Audubon Hospital
A major expansion and renovation of Norton Audubon Hospital began in late March 2016. The hospital has remained fully operational throughout the project. Designed to enhance patient privacy, increase patient satisfaction and boost efficiency and value, the project features:
A new two-story building housing the intensive care, open heart and cardiac care units
Expanded and redesigned emergency department
All private and remodeled patient rooms
More welcoming front entrance with easier patient registration, a café and gift shop
Three new operating rooms, plus a renovated main operating room and expanded recovery area
"We're working to build upon Norton Audubon Hospital's long-standing history of caring for our community in a new, state-of-the-art health care facility," said Jon D. Cooper, chief administrative officer of the hospital.
Norton Brownsboro Hospital
Since opening in August 2009, Norton Brownsboro Hospital has experienced tremendous growth, mainly due to an influx of patients from rural communities in surrounding counties. To meet the growing need, the hospital has added services such as stroke and neurosurgical care. It also serves a high volume of orthopedic and medical/surgical patients.
Construction projects include adding patient care space and building a new parking garage near the hospital.
Norton Cancer Institute – Brownsboro
Norton Cancer Institute – Brownsboro is a new 48,591-square-foot, three-story structure located across from Norton Brownsboro Hospital. It opened in early November, offering radiation oncology, medical oncology and infusion therapy in one location. Other special services include hematology, neuro-oncology and surgical oncology.
"Norton Cancer Institute – Brownsboro brings all the oncology subspecialties and services covered by the institute together for the first time in one location," said Joseph M. Flynn, D.O., MPH, FACP, chief administrative officer, Norton Medical Group, and physician-in-chief, Norton Cancer Institute. "The use of innovative design and advanced technologies provide highly personalized services and care based on each person's needs."
Norton Medical Plaza III – Brownsboro
A new 100,000-square-foot, four-story medical office building on the Norton Brownsboro Hospital campus opened in October.
A new Norton Breast Health Center in the facility features timely access and comprehensive, patient-centered care and services. Breast surgeons, advanced practice providers, imaging services personnel and a clinical support team will be available for consultations and educational services to address numerous breast health concerns. These include cancer, future cancer risk, a palpable mass or lump, breast pain and skin integrity issues.
Norton Children's Hospital
Significant enhancements to Norton Children's Hospital are scheduled to be completed in 2021. All the improvements will strengthen services for the thousands of children who receive care at the hospital each year. They include:
The 7,000-square-foot S. Randolph Scheen Family Conference Center that opened earlier in the year
The Jennifer Lawrence Cardiac Intensive Care Unit, a 17-bed unit with private rooms for children recovering from heart procedures and their families
Renovation of the "Just for Kids" Critical Care Center and two neonatal intensive care units
A 24-bed medical/surgical unit that will include all private rooms and separate playrooms for young children and adolescents
 
Refer a patient
To refer a patient to a Norton Healthcare provider or facility, click here for the online referral form or call (502) 629-1234, option 3.
---