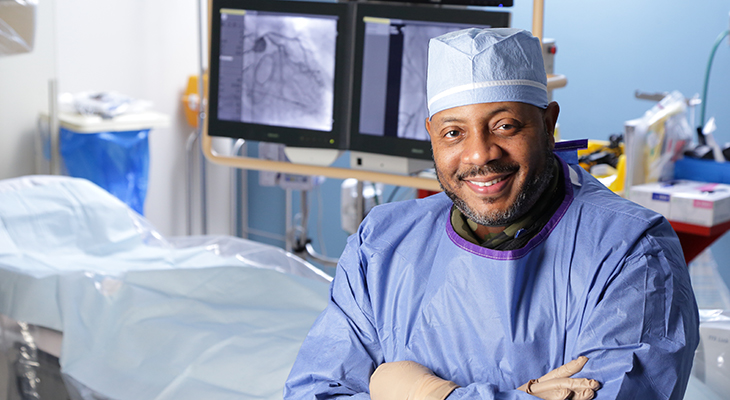 Norton Healthcare has named Kelly C. McCants, M.D., acting executive director of the newly formed Norton Healthcare Institute for Health Equity.
Dr. McCants currently serves as Norton Healthcare's medical director of advanced heart failure. He will hold both positions while the institute is being established. Dr. McCants will report to Russell F. Cox, president and CEO, Norton Healthcare and join the organization's executive team.
"Norton Healthcare's mission calls on us to respond to the needs of our community, and clearly our community is in need," Cox said. "Dr. McCants is uniquely qualified for this role. Through his work with heart failure patients, he and his team have demonstrated the power of addressing socioeconomic dynamics in order to achieve heart recovery. He has a true passion for addressing health disparity, and we are fortunate that he has agreed to balance the role while continuing to care for his patients."
Last month, Cox announced the creation of the Norton Healthcare Institute for Health Equity as one of five initiatives to address inequalities within the community. The primary focus of the institute will be to identify and remove obstacles that prevent people in underserved areas from receiving the health care they deserve, as well as to eliminate disparities in care.
"The premise of the institute is that health equity can only be achieved when every person has a fair opportunity to achieve their full health potential," Dr. McCants said. "I'm so proud that Norton Healthcare is striving for a future free of health inequities and is committing its time, talents and resources in pursuit of this essential human right."
Growing up in Jacksonville, Florida, and Tuscaloosa, Alabama, Dr. McCants said he drew inspiration from his mother and older brother. He is the first physician and only the fourth college graduate among 54 members of his extended family. His brother, now a police captain, and his mother, who went back to school at age 40, were the first and second college graduates.
Dr. McCants attended Tennessee State University, Nashville, before going to Meharry Medical College, also in Nashville. He completed his internship, residency and fellowship at the University of Louisville. He returned to Louisville after a stint at Atlanta, Georgia's Piedmont Hospital, where he was director of cardiac transplantation.
"We know that this leadership model requires investing in passionate people to continue the success of our heart failure program and to move this health equity initiative forward," Cox said. "We are committed to success and will do what is needed so that everyone has access to the health care they need."
---